Chukka boots are a must-have in your wardrobe. They're timeless, versatile, can be worn all year, and with different formalities.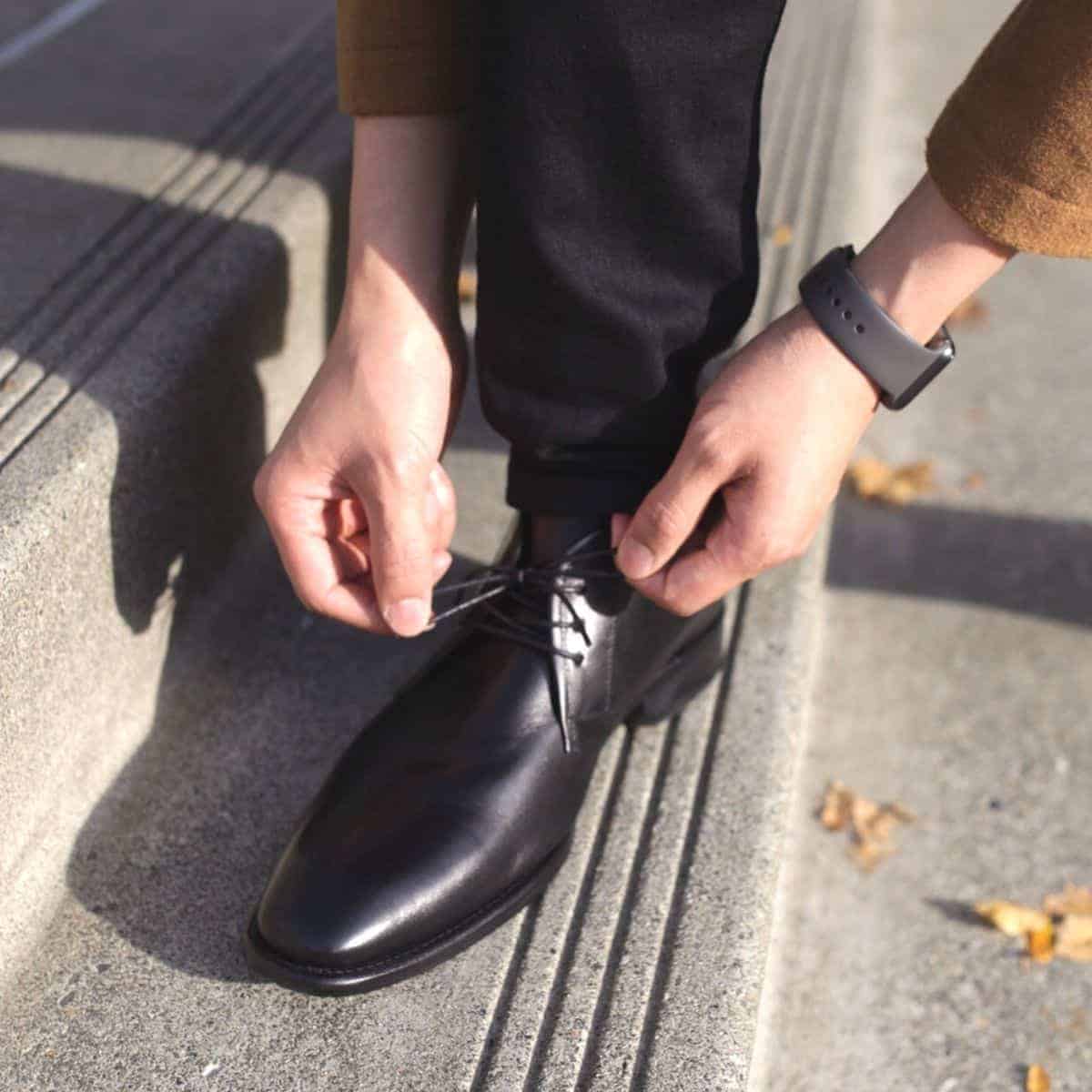 Estimated reading time: 8 minutes
We receive a commission on purchases made through links on this page. For more information, read Affiliate Disclosure.
1. Beckett Simonon Laval Chukka Boots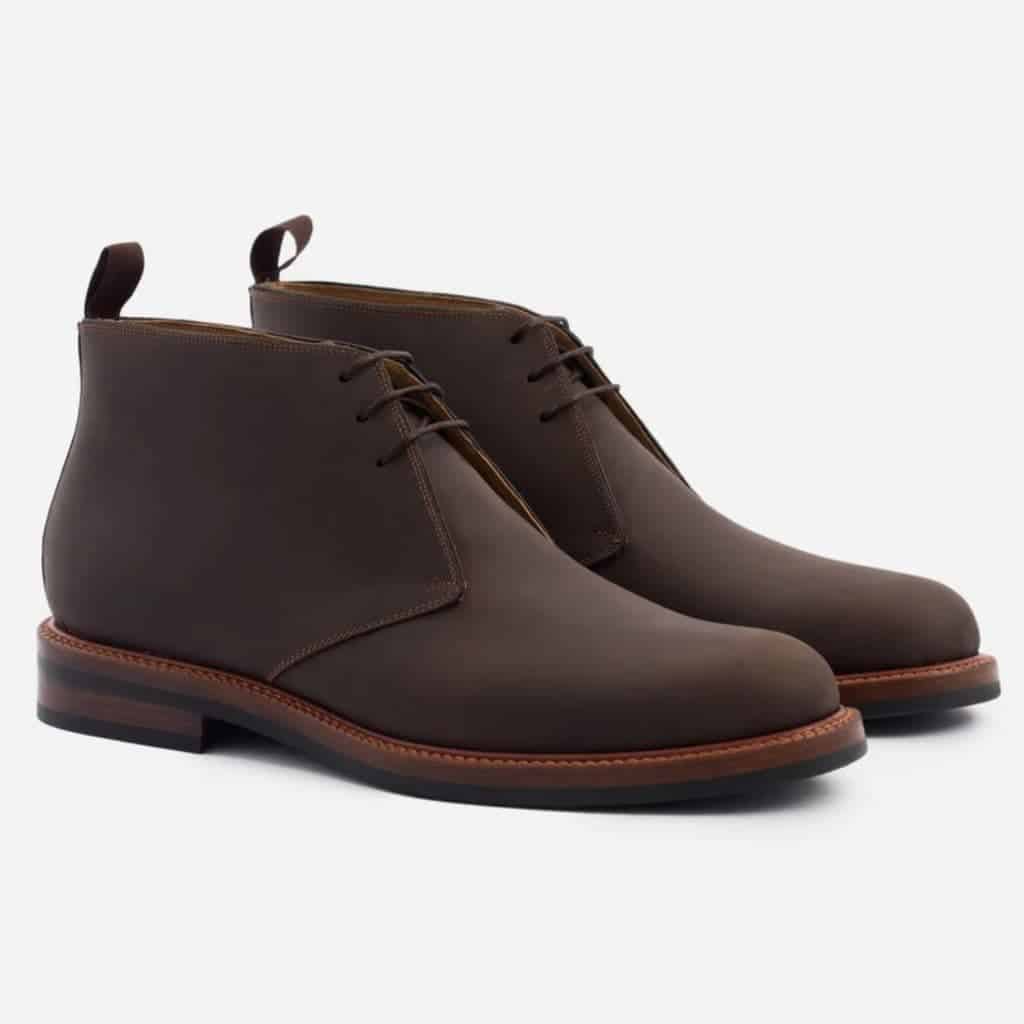 Beckett Simonon is one of the best brands to buy boots from. It's a brand that's focused on provided high-quality shoes without breaking the bank and with less waste.
The Laval Chukka Boots are good-looking and made from full-grain Argentinian leather. It's soft, durable, and elegant leather.
Related: How to style chukka boots
It gets the deep color from being conditioned with shea butter and carnauba wax.
Inside, the Vachetta leather lining allows your feet to breathe by regulating the temperature and absorbing moisture.
Overall, they're sturdy and comfortable boots. After you wear them out, it'll also be easy to re-sole. The Laval Chukka Boots are a must-have.
Buy the Laval Chukka Boots from Beckett Simonon (opens in a new tab).
2. Clarks Desert Boot Black Combi Suede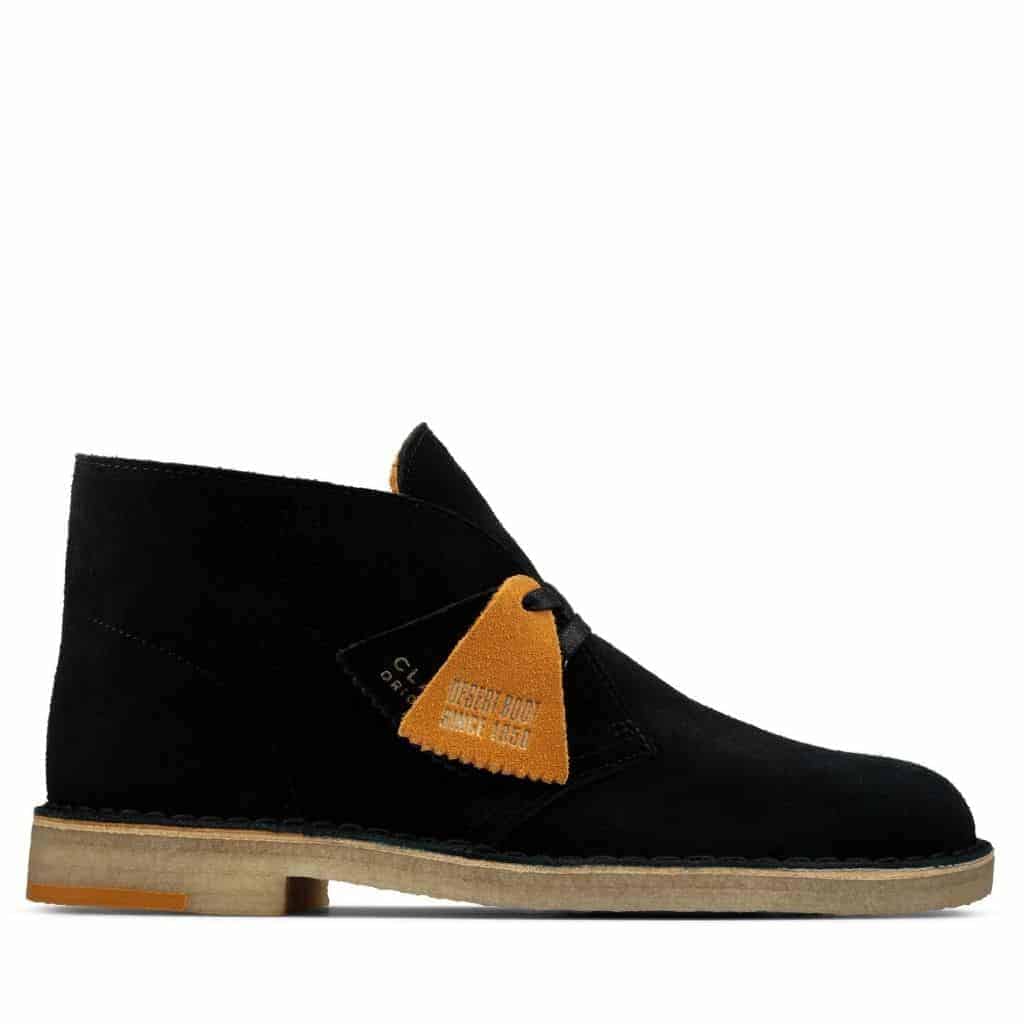 Clarks Desert Boot is one of the most popular in the chukka boot market. It has a classic design, high-quality suede, and offers many colors to choose from.
The desert boot is a type of chukka boot. Typically it's lighter than a chukka boot because it's unlined and not as structured.
The Desert Boots from Clarks are comfortable, and you can feel the softness in each step you take.
Since launching in the 1950s, the desert boots have been a hit. It's a stylish and versatile boot that's perfect if you're looking for something unstructured.
Buy the Desert Boot Black Combi Suede from Clarks (opens in a new tab).
3. Nisolo Emilio Chukka Boot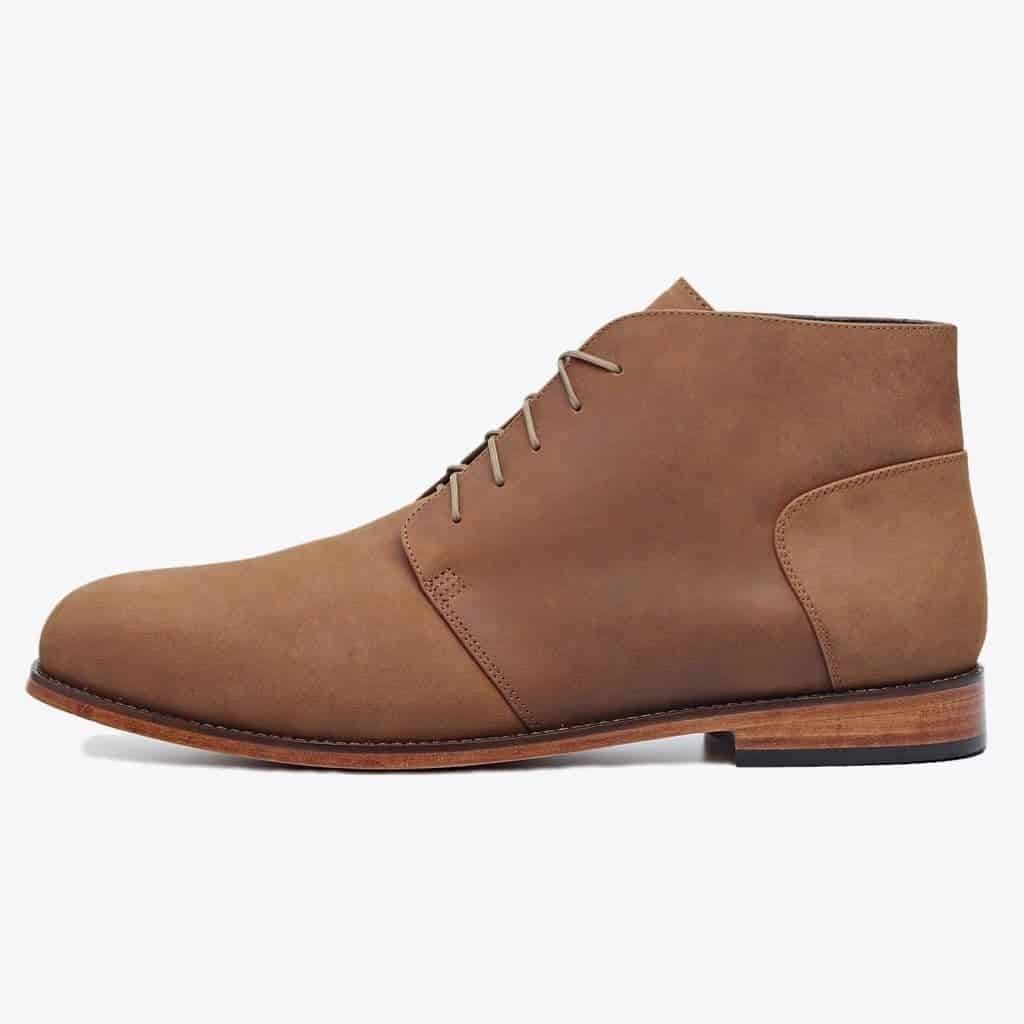 Nisolo's Emilio Chukka Boot is sophisticated and good-looking. It's one that you can wear casually or slightly dressed up with a sleek pair of chinos and a sport coat.
The upper is Nubuck leather, insole, and the interior is made with soft leather for comfort. The oak color looks incredible and pairs well with dark-colored pants.
Nisolo took the traditional chukka boot and added a few twists to it.
The Emilio Chukka Boot has more than three eyelets, which is what the traditional chukka has. You'll also see the difference in the sleek leather sole.
What makes the Emilio Chukka Boot stand out is that it's ethically handmade in the Nisolo factory in Peru.
It's a sophisticated and rustic boot that you can feel good about.
Buy the Emilio Chukka Boot from Nisolo (opens in a new tab).
4. To Boot New York Burnett Boot
To Boot's Burnett chukka boot is all about warmth and comfort. It's not one that you'd wear dressed-up. However, it's perfect to wear with a casual outfit.
It's made from Italian suede and lined with cashmere. The cashmere lining works like gloves for your feet.
The soles are made from flexible rubber, making it comfortable to walk in.
The Burnett chukka boot will ensure that your feet stay warm, and you can walk around the city with ease.
Buy the Burnett Boot from To Boot New York (opens in a new tab).
5. Frye Murray Chukka
Frye is one of the most well-known footwear brands and offers some of the best high-quality boots. It's been around since 1863, making it one of the oldest American shoe companies.
The Murray chukka boot is well-constructed. It's made from dyed full-grain leather, and the soles are made from durable rubber.
They're nice boots that offer a great fit and comfort. With time, the boots will also look better.
Buy the Murray Chukka from Frye (opens in a new tab).
6. Red Wing Heritage Weekender Chukka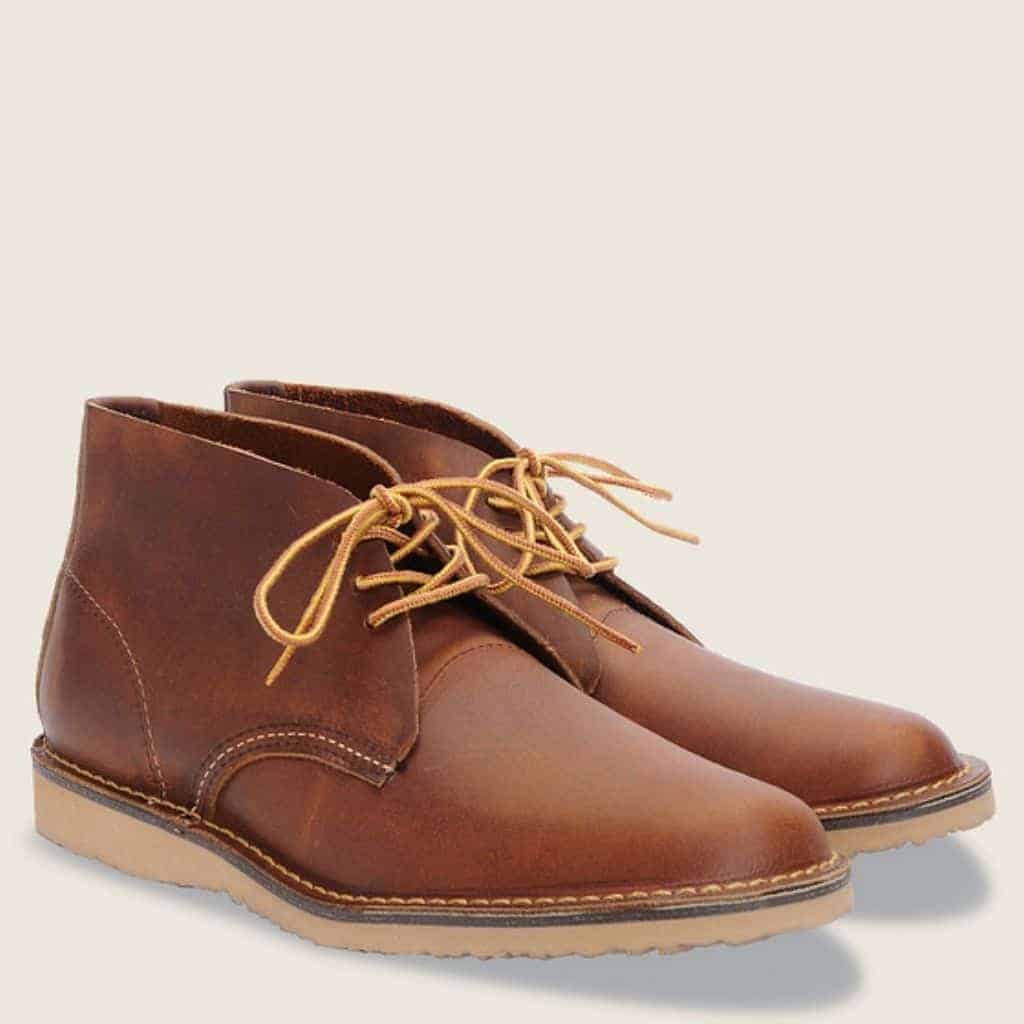 Red Wing is known for its high-quality safety and heritage footwear. Although the Weekender Chukka is a stylish boot, it can withstand as much as a regular workboot.
It's the perfect boot for everyday wear because it combines a casual style with all-day comfort.
The Hill outsole ensures that you have steady footing, and it's part of the unique Red Wing look.
Being made from Red Wing's traditional construction methods, it's a durable, lightweight, and flexible boot.
Buy the Red Wing Heritage Weekender Chukka from Amazon (opens in a new tab).
7. Thursday Boot Co. Scout Chukka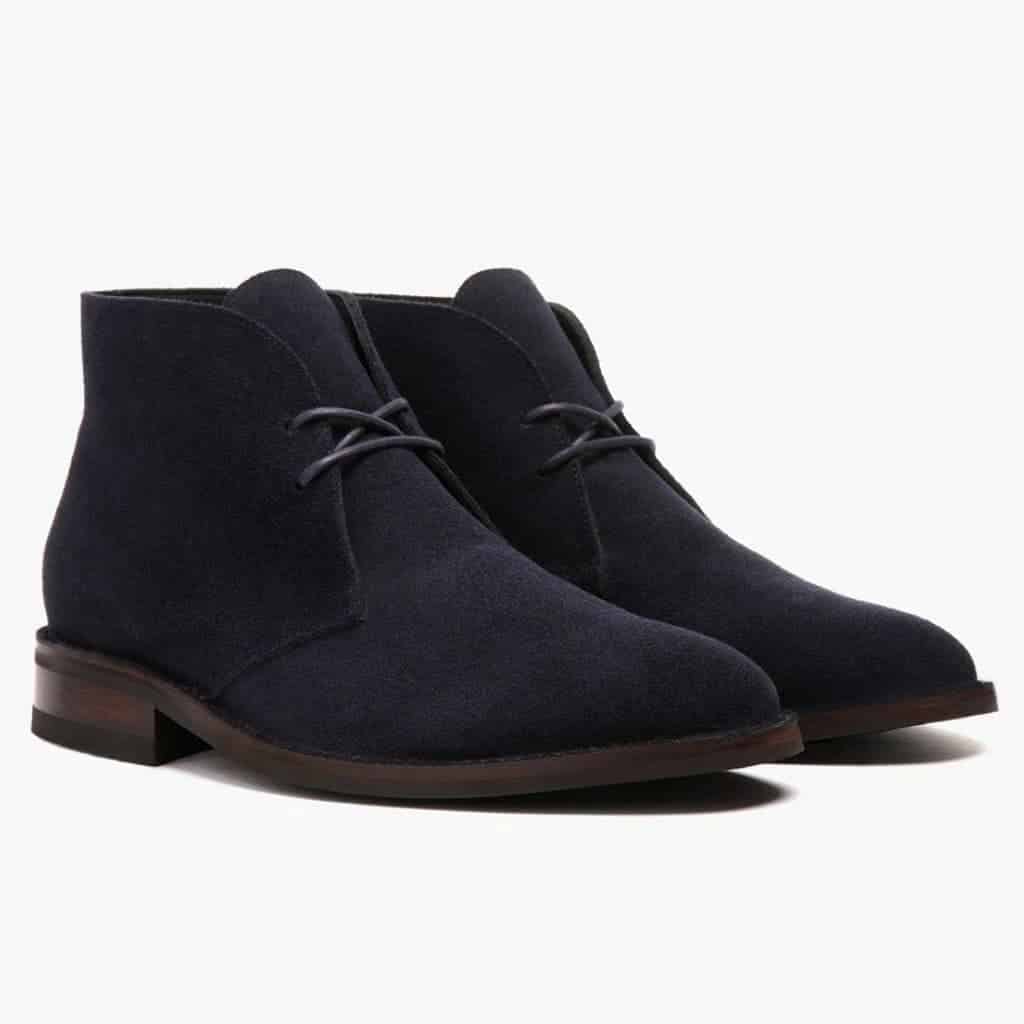 The Scout Chukka from Thursday Boot Co. is an elegant handcrafted boot. The midnight blue suede is beautiful and one of several great options.
The suede is made with a blend of waterproof and hydrophobic compounds, which prevents water from going through the leather. It's soft, strong and ensures that your feet stay dry.
It also has antimicrobial shock-absorbing insoles and cork-bed midsoles that form to your feet.
The Scout Chukka is comfortable, minimal, fairly-priced, and will elevate your outfit.
Buy the Scout Chukka from Thursday Boot Co. (opens in a new tab).
8. Johnston & Murphy Cormac Chukka
Johnston & Murphy's Cormac chukka boot is handcrafted with vegetable-tanned calfskin in Italy.
It's a sleek boot that looks better with smart-casual or more elevated outfits. The clean lines and narrow toe gives it a sophisticated look.
The Cormac chukka has a classic three-eyelet lacing system, plain toe, and low heel. It offers a comfortable and modern style.
Buy the Cormac Chukka from Johnston & Murphy (opens in a new tab).
9. Allen Edmonds Cyrus Chukka Boot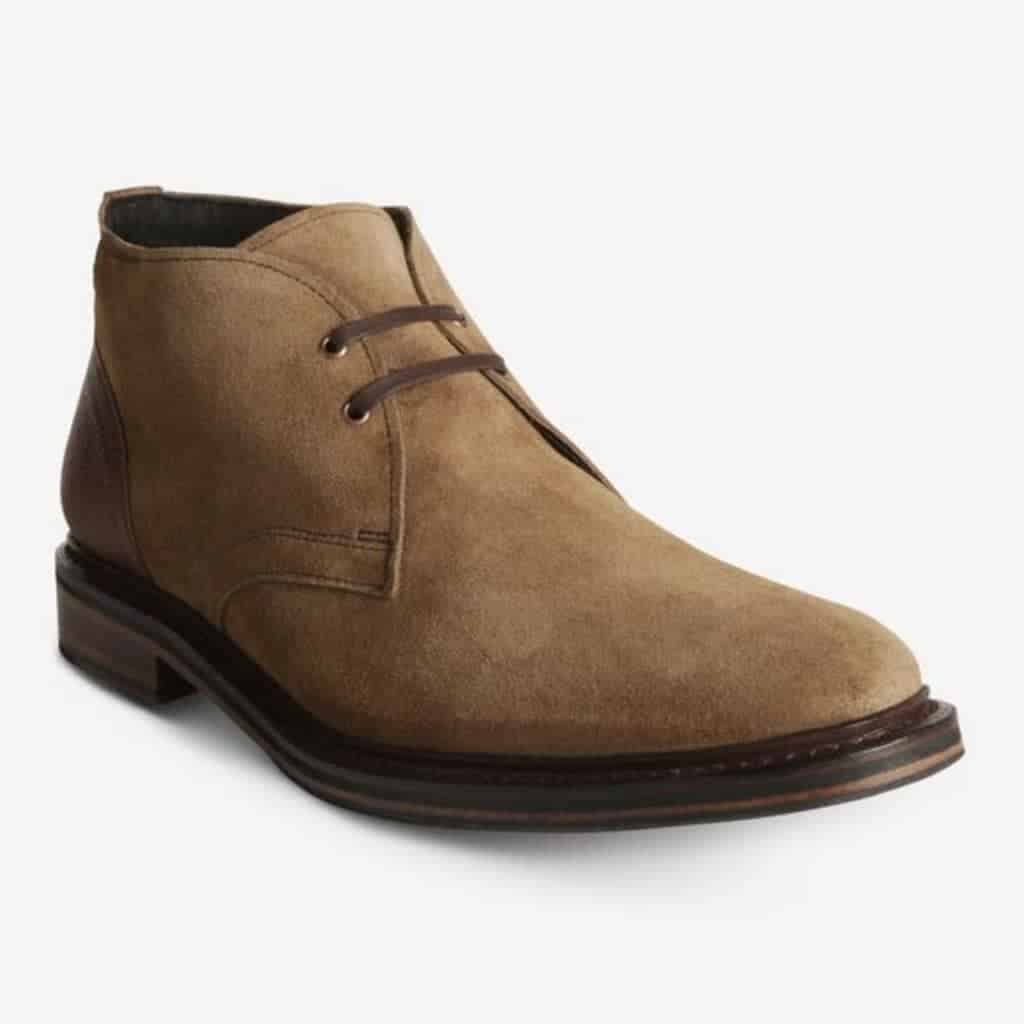 Allen Edmonds is an upscale footwear brand offering high-quality shoes that can last more than a decade.
The Cyrus Chukka Boot is made with light brown suede and has a unique leather heel. It's a blend of premium European suede and calfskin leather.
It's also designed with the traditional two-eyelet lacing structure and a plain toe for simplicity.
Overall, the Cyrus Chukka Boot is uniquely designed, comfortable, and durable.
Buy the Cyrus Chukka Boot from Allen Edmonds (opens in a new tab).
Frequently asked questions
Are chukka boots in style?
Yes, chukka boots are in style and will continue to be. They're an ankle-high boot that'll remain a menswear classic.
What do I wear chukka boots with?
For a casual outfit, wear chukka boots with jeans and a t-shirt. If you want to elevate your outfit, wear them with chinos and a collared shirt.
Can I wear chukka boots with shorts?
No, only wear chukka boots with full-length pants. They look the best with jeans or chinos.
Conclusion
Chukka boots are essential because they're timeless and stylish. If you don't have a pair yet, now is the time. You can wear them any time of the year, and they look well dressed-up or down.
More resources:
Featured photo by Nico Villanueva/Next Level Gents.