Chukka boots are a footwear staple. They're versatile, meaning you can dress them up or down. If you don't have a pair, get one today.
Chukka boots are timeless and will be in style every fall through spring. The chukka boot has several distinctive features.
It's a lace-up ankle boot with two or three eyelets and a round toe box.
Also, the original chukka boots had leather soles.
Later, crepe rubber soles became the standard for the desert boot, a version of the chukka boot.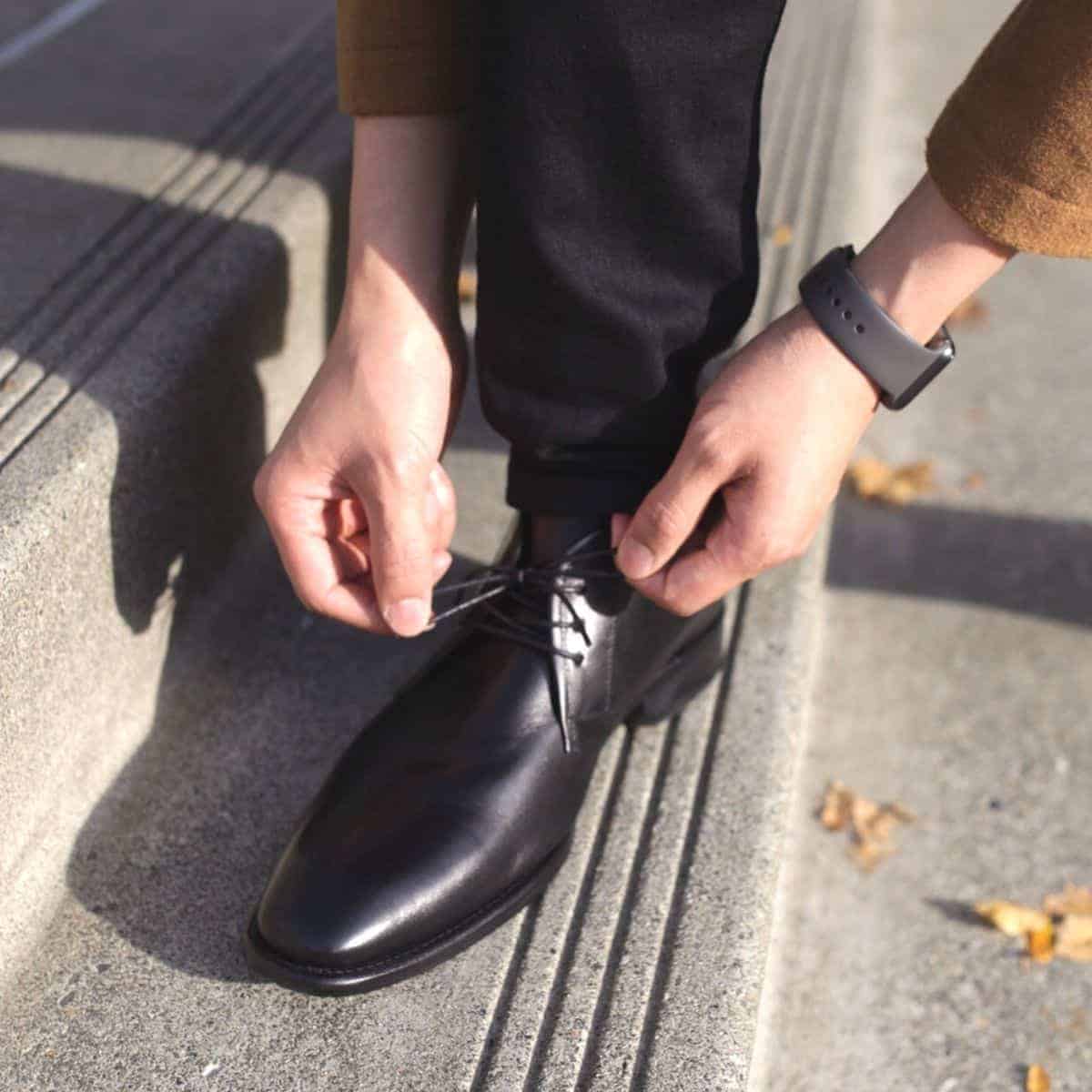 Aside from the key features, it's an essential boot.
It's durable, stylish, and comfortable. You'll look dapper, rugged, and sophisticated all at once.
If you don't have a pair, get one today. The following are the best options for chukka boots.
Beckett Simonon Laval Chukka Boots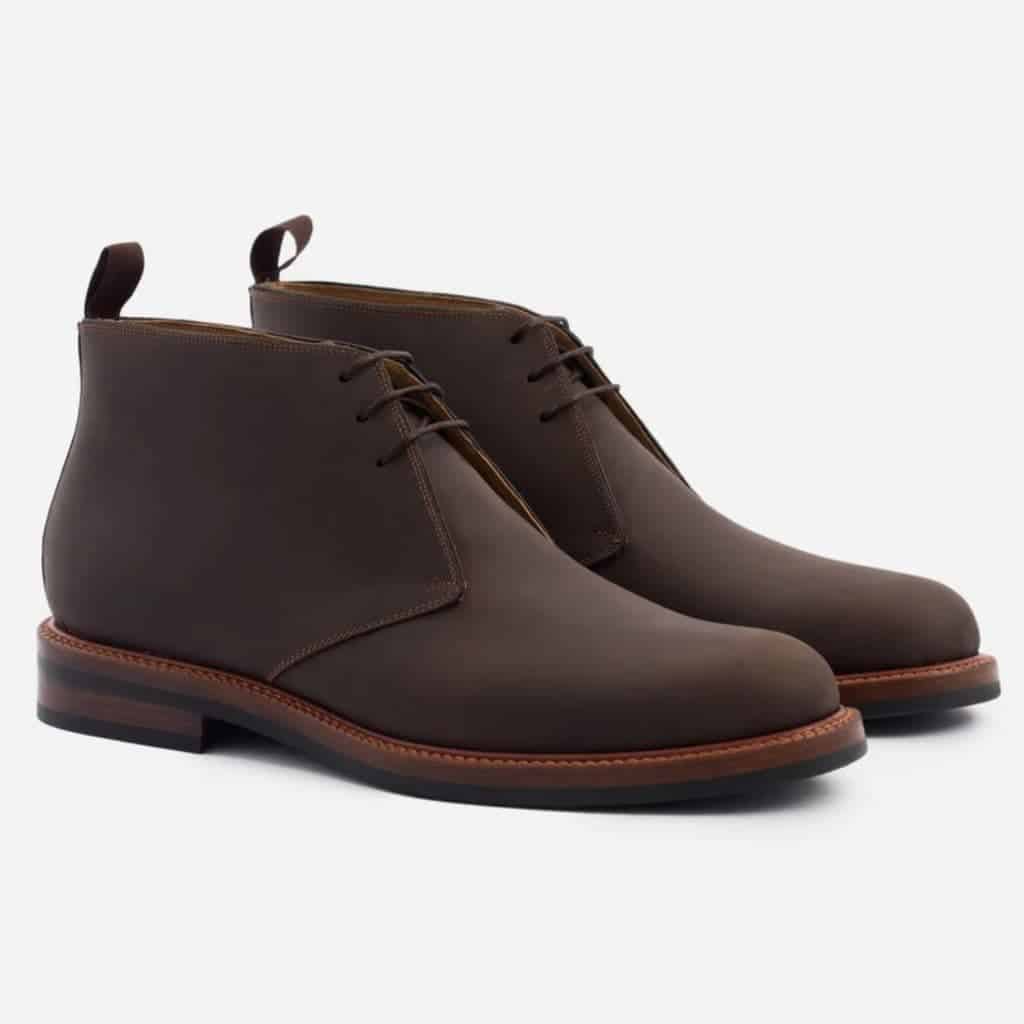 Beckett Simonon is one of the best brands to buy boots from. It's a brand that's focused on provided high-quality shoes without breaking the bank and with less waste.
The Laval Chukka Boots are good-looking and made from full-grain Argentinian leather. It's soft, durable, and elegant leather.
It gets the deep color from being conditioned with shea butter and carnauba wax.
Inside, the Vachetta leather lining allows your feet to breathe by regulating the temperature and absorbing moisture.
Overall, they're sturdy and comfortable boots. After you wear them out, it'll also be easy to re-sole. The Laval Chukka Boots are a must-have.
Promising review: "The Laval Chukka is absolutely beautiful! The quality looks great, the fit is perfect, and they're super comfortable right out of the box. I'm going to wear these a lot! They're definitely worth the wait." -Jeff
Quoddy Kennebec Chukka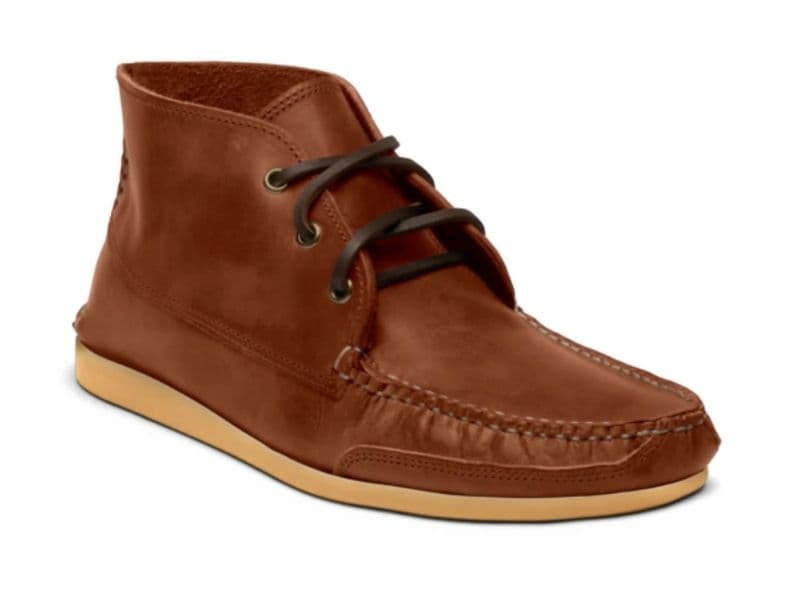 If you want a pair of boots that last a lifetime, get your chukkas from Quoddy.
Not only is it one of the most renowned brands in footwear, but the chukka boots are also customizable.
The Kennebec Chukka offers two sole options, a Vibram® Camp sole or Comfort Lug outsole. Both provide excellent cushioning and comfort.
With the Quoaddy boots, you'll have a genuine moccasin feel.
When you wear them out, Quoddy can resole them. Also, they're made to order and handmade in Maine.
Promising review: "Great true fit, very comfortable with high quality materials, and well crafted. Look forward to years of service, and expect them to get even better as time lengthens." -Michael
Church's Ryder 3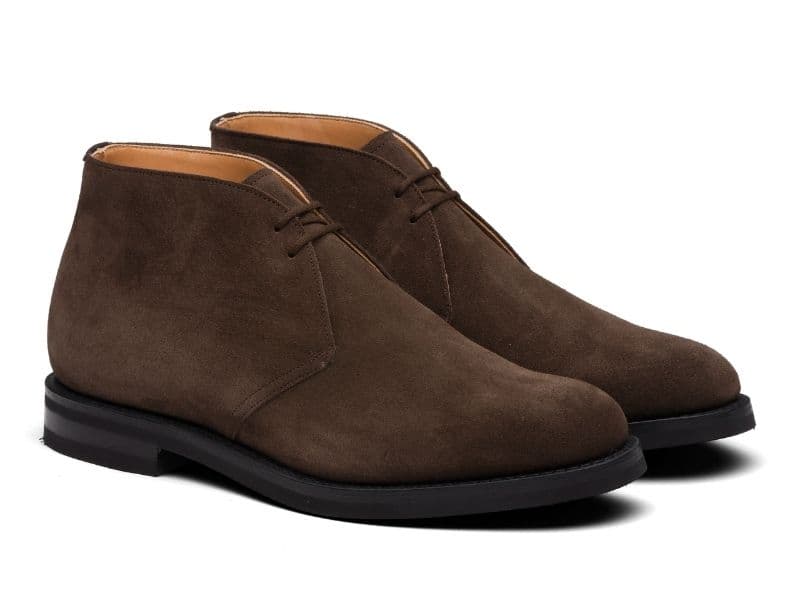 The Ryder 3 is an iconic and excellent high-end pair of chukka boots.
Daniel Craig wore Church's Ryder 3 in brown suede as James Bond in Quantum of Solace.
Aside from being iconic, it's a high-quality boot. It has a lightweight double-sole, Castoro suede upper, and Goodyear construction.
It's comfortable, durable, and versatile. You can wear it rain or shine and look stylish.
It also looks excellent with jeans and a t-shirt or a casual suit.
Promising review: "This review is written eight years after my purchase so it should be fairly accurate. This shoe is very stylish, comfortable and really durable. Actually more durable than "normal" non suede shoe."
Taylor Stitch The Chukka in Weatherproof Loden Suede
The Chukka in Weatherproof Loden Suede by Taylor Stitch is practical and comfortable.
The Vibram inset mini-lug soles give the boots traction and are easy on your feet.
It also features re-soleable Goodyear welt construction, sheepskin lining, and a foam insole.
The chukkas are impressive and worth the investment.
It has a stylish design excellent for any casual outfit.
Promising review: "Rugged, well-built boots that will stand up to a beating and still look great. I especially love the Vibram sole and construction on these." -Aaron
Frye Paul Chukka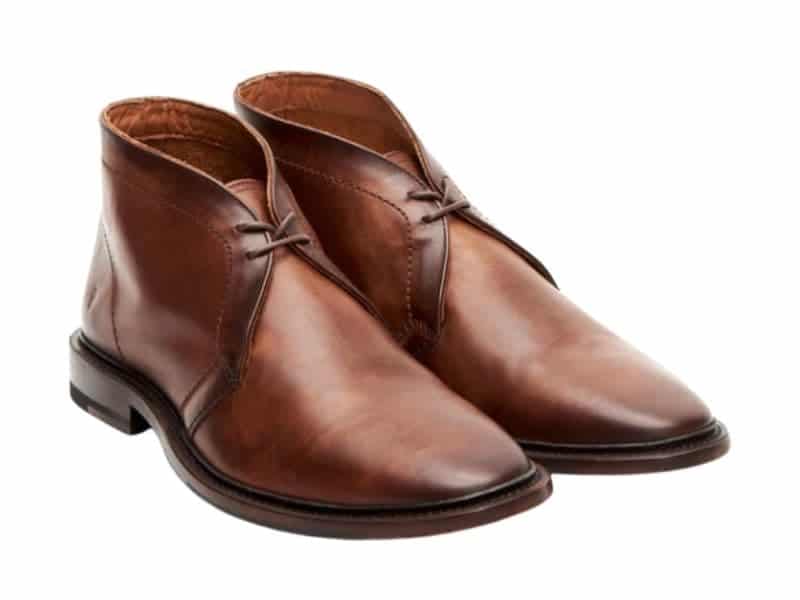 Frye's Paul Chukka is one of the best-looking boots available.
The antique leather is hand-brandished, ensuring there's no break-in period. They'll be comfortable out of the box.
The Paul Chukka boots are also Goodyear welted and feature a stacked leather heel.
Over time, they'll look even better. They age well, and the scuffs give them character.
Promising review: "My new favorite shoes. Soft but durable leather. Fit is true to size. Plan to purchase these in suede also. Extremely versatile shoe. Nicely done!!" -Fred
Clarks Desert Boot Black Combi Suede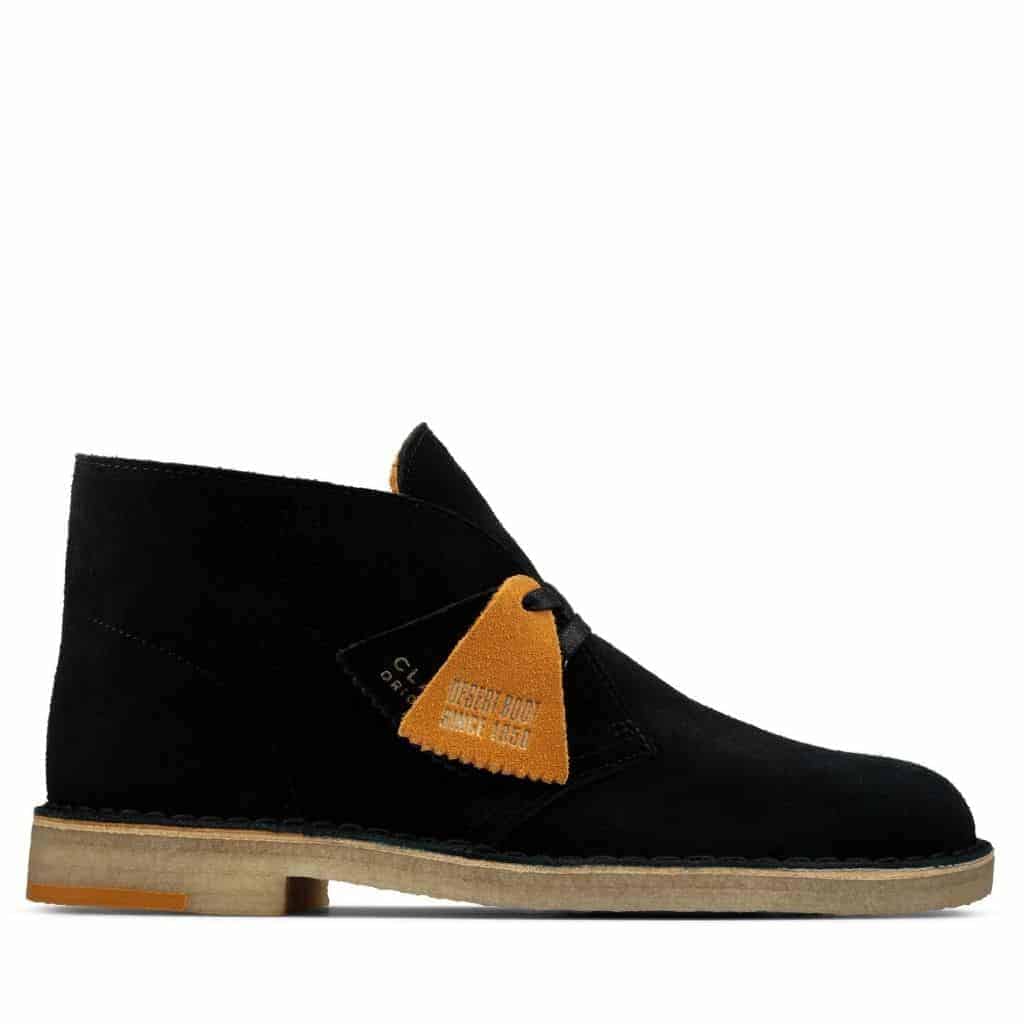 Clarks Desert Boot is one of the most popular in the chukka boot market. It has a classic design, high-quality suede, and offers many colors to choose from.
The desert boot is a type of chukka boot. Typically it's lighter than a chukka boot because it's unlined and not as structured.
The Desert Boots from Clarks are comfortable, and you can feel the softness in each step you take.
Since launching in the 1950s, the desert boots have been a hit. It's a stylish and versatile boot that's perfect if you're looking for something unstructured.
Promising review: "I have been buying these pair of Clarks for the last 7 years. They last me around 2 years and I wear them about every day I wear jeans. I would recommend them to anyone who wants a nice pair of boots that age well." -Vandal
Nisolo Everyday Chukka Boot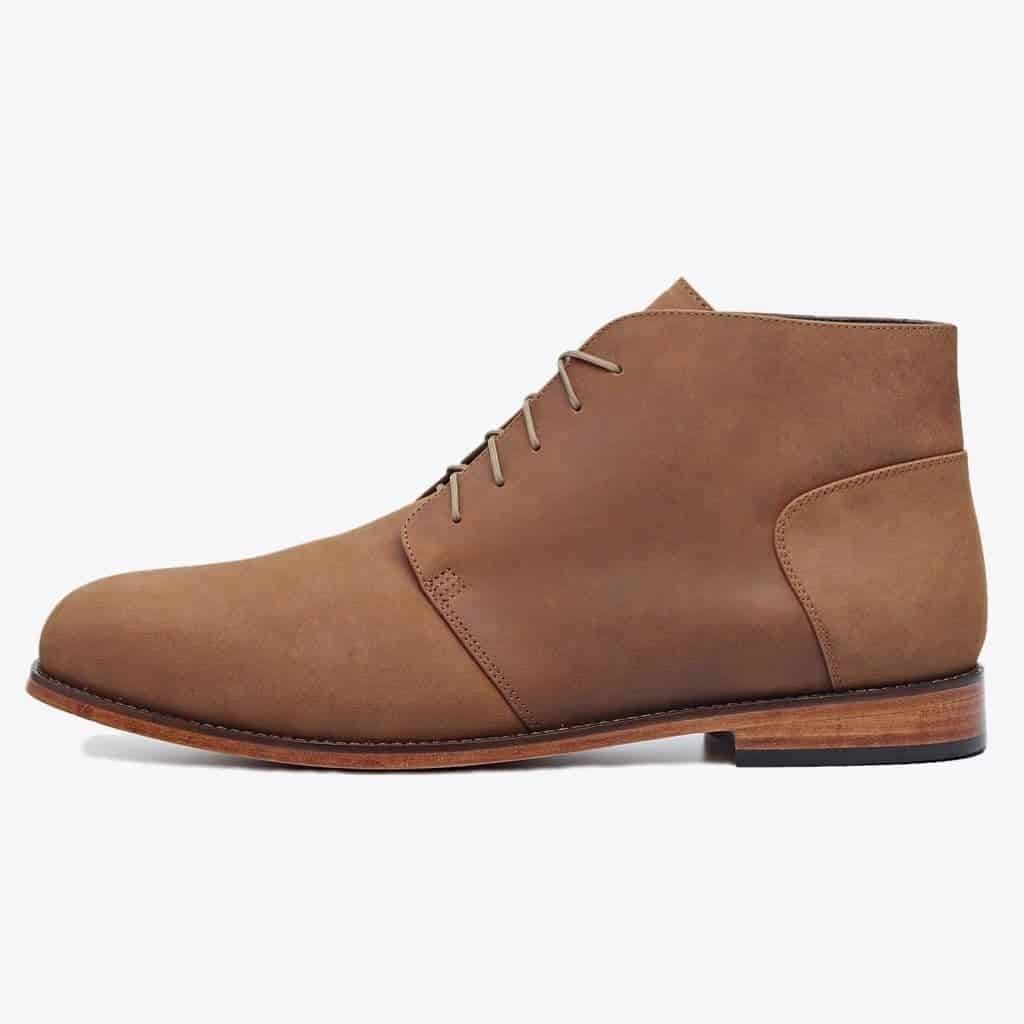 Nisolo's Everyday Chukka Boot is sophisticated and good-looking. It's one that you can wear casually or slightly dressed up with a sleek pair of chinos and a sport coat.
The upper is Nubuck leather, insole, and the interior is made with soft leather for comfort. The oak color looks incredible and pairs well with dark-colored pants.
Nisolo took the traditional chukka boot and added a few twists to it.
The Everyday Chukka Boot has more than three eyelets, which is what the traditional chukka has. You'll also see the difference in the sleek leather sole.
What makes the Everyday Chukka Boot stand out is that it's ethically handmade in the Nisolo factory in Peru.
It's a sophisticated and rustic boot that you can feel good about.
Promising review: "Quality as always is top notch as with any Nisolo product. That said, these boots are hands down the most comfortable shoe I've purchased. They are true to size and the cushion is best in class." -James
Astorflex Greenflex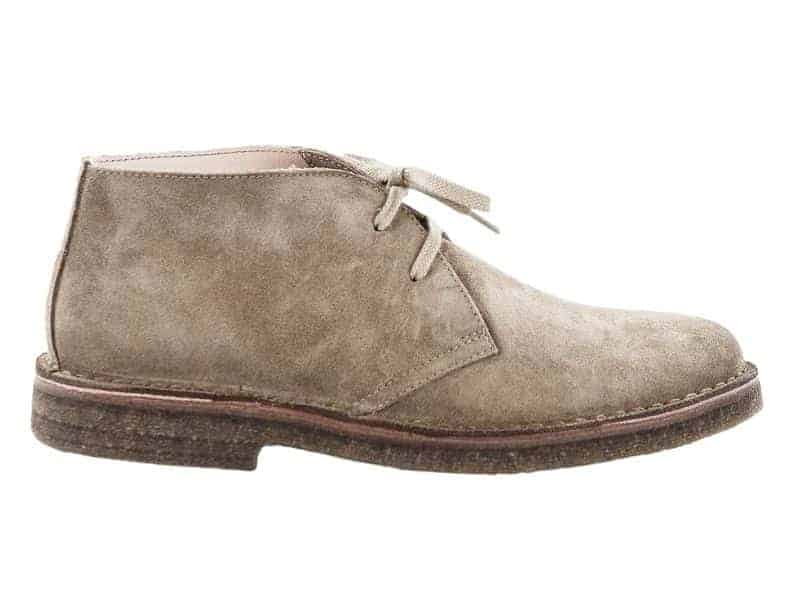 If you value eco-friendliness, get the Astorflex Greenflex.
The chukkas are handmade in Northern Italy with an environmentally responsible process.
They feature natural rubber soles, enhancing your comfort while walking. You'll also have excellent traction on rainy days.
The leather on the Greenflex chukka has a soft appearance. So, wear it with casual or smart casual outfits.
Promising review: "These might just be the single best pair of shoes I own. They are incredibly comfortable, beautifully crafted and extremely versatile. They can be dressed up or down to accommodate a day outdoors or a casual night out. These Astorflex Greenflex chukkas are my new "go to" shoes of choice." -Steven
Red Wing Heritage Weekender Chukka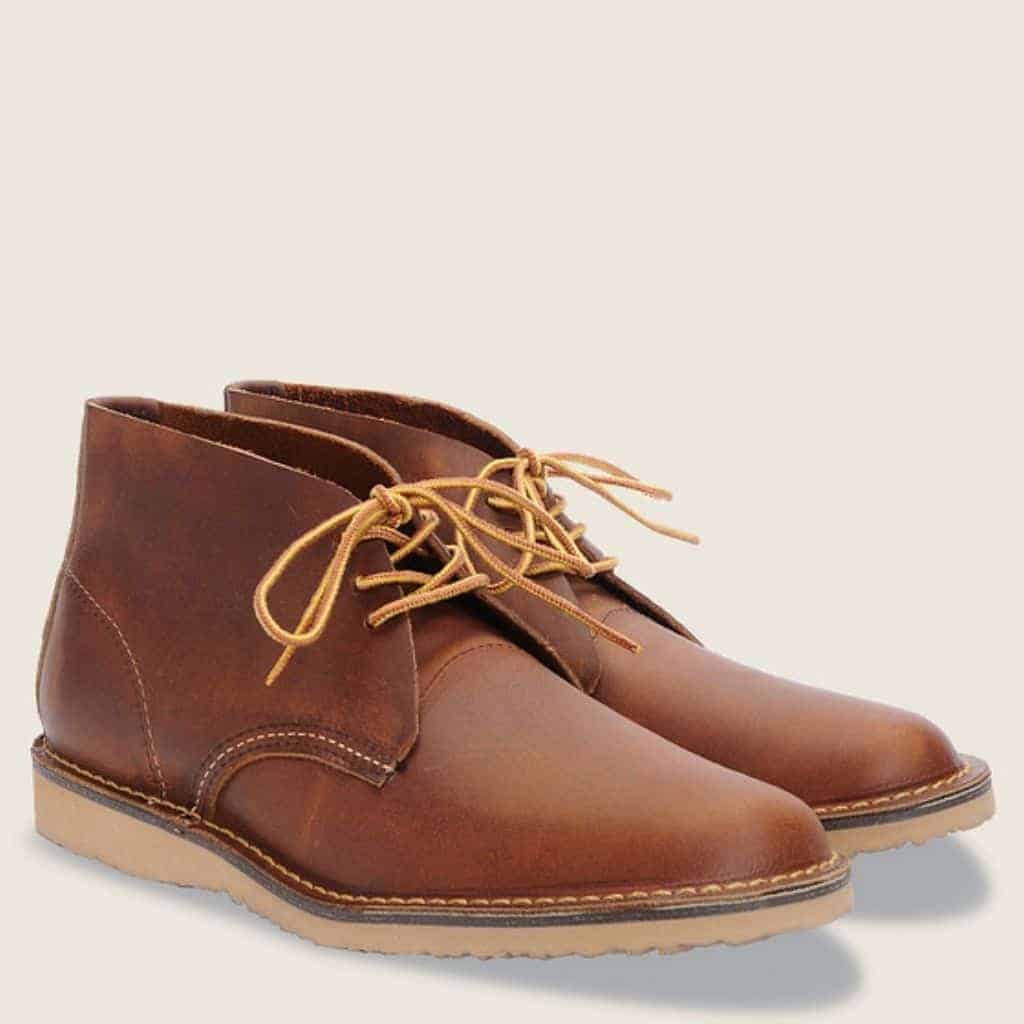 Red Wing is known for its high-quality safety and heritage footwear.
Although the Weekender Chukka is a stylish boot, it can withstand as much as a regular workboot.
It's the perfect boot for everyday wear because it combines a casual style with all-day comfort.
The Hill outsole ensures that you have steady footing, and it's part of the unique Red Wing look.
Being made from Red Wing's traditional construction methods, it's a durable, lightweight, and flexible boot.
Promising review: "I have never had a pair of shoes that I can't stop staring at until I got a pair of these. They make me feel incredibly confident and they are extremely comfortable." -Nestor
Johnston & Murphy Copeland Chukka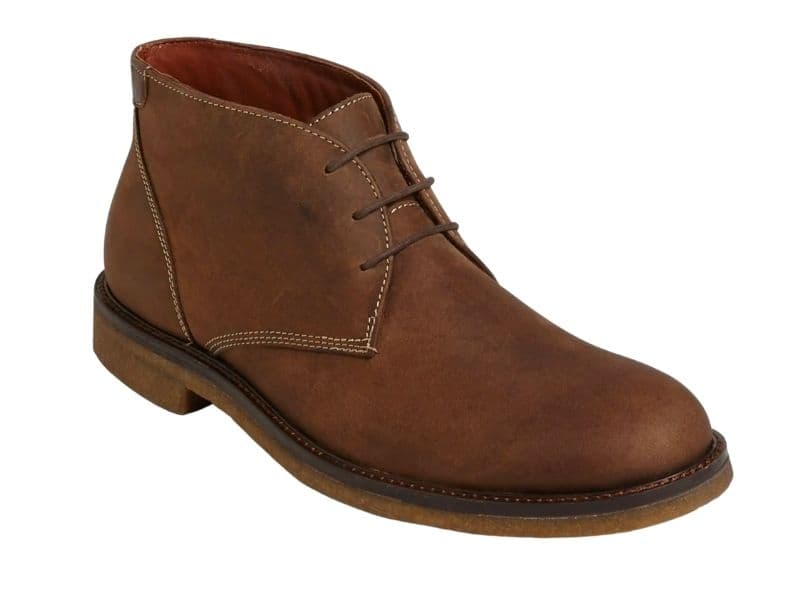 Johnston & Murphy's Copeland Chukka offers high-quality craftsmanship and a classic crepe sole.
It also has a round toe box, making it an excellent boot for casual outfits.
If you want a pair of quality chukkas for less than $200, the Copeland Chukka should be near the top of your list.
The main drawback is the cement construction, as opposed to Goodyear welting. It can lead to the upper and sole detaching over the years.
Otherwise, the Copeland Chukka is a well-rounded pair of casual boots.
Promising review: "The leather (tan oiled full grain) is extremely durable. I've spent a lot of time with these in dry heat of the western US and worked in dirty oily environments. I have had oil drip on these boots a few times too. Dirt, sand, dust, oil, water, the leather is still holding strong." -Brandon
Thursday Boot Co. Scout Chukka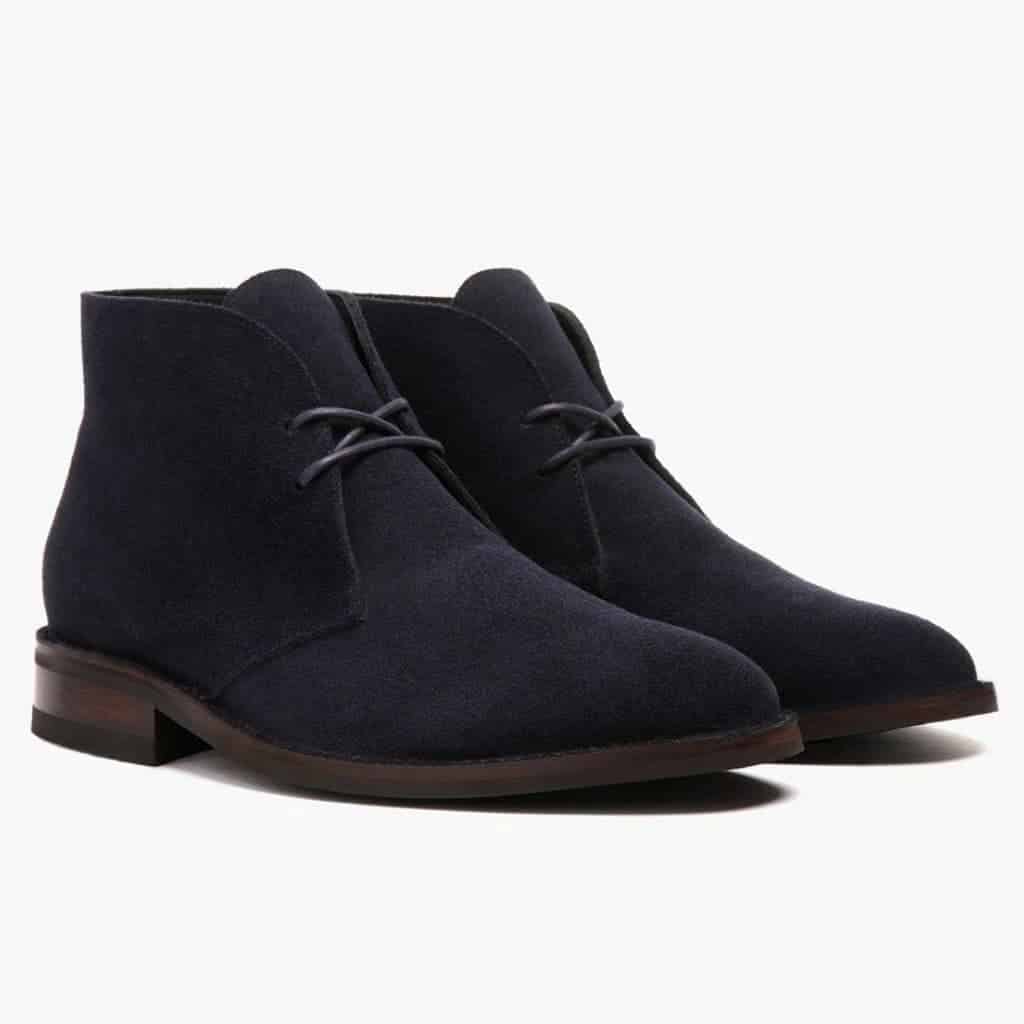 The Scout Chukka from Thursday Boot Co. is an elegant handcrafted boot. The midnight blue suede is beautiful and one of several great options.
The suede is made with a blend of waterproof and hydrophobic compounds, which prevents water from going through the leather.
It's soft, strong, and ensures that your feet stay dry.
It also has antimicrobial shock-absorbing insoles and cork-bed midsoles that form to your feet.
The Scout Chukka is comfortable, minimal, fairly priced, and will elevate your outfit.
Promising review: "Love these boots. Beautiful look and feel to it and the leather is quality craftsmanship! Fit great and are surprisingly comfortable for a first wear." -Khanan
Allen Edmonds Cyrus Chukka Boot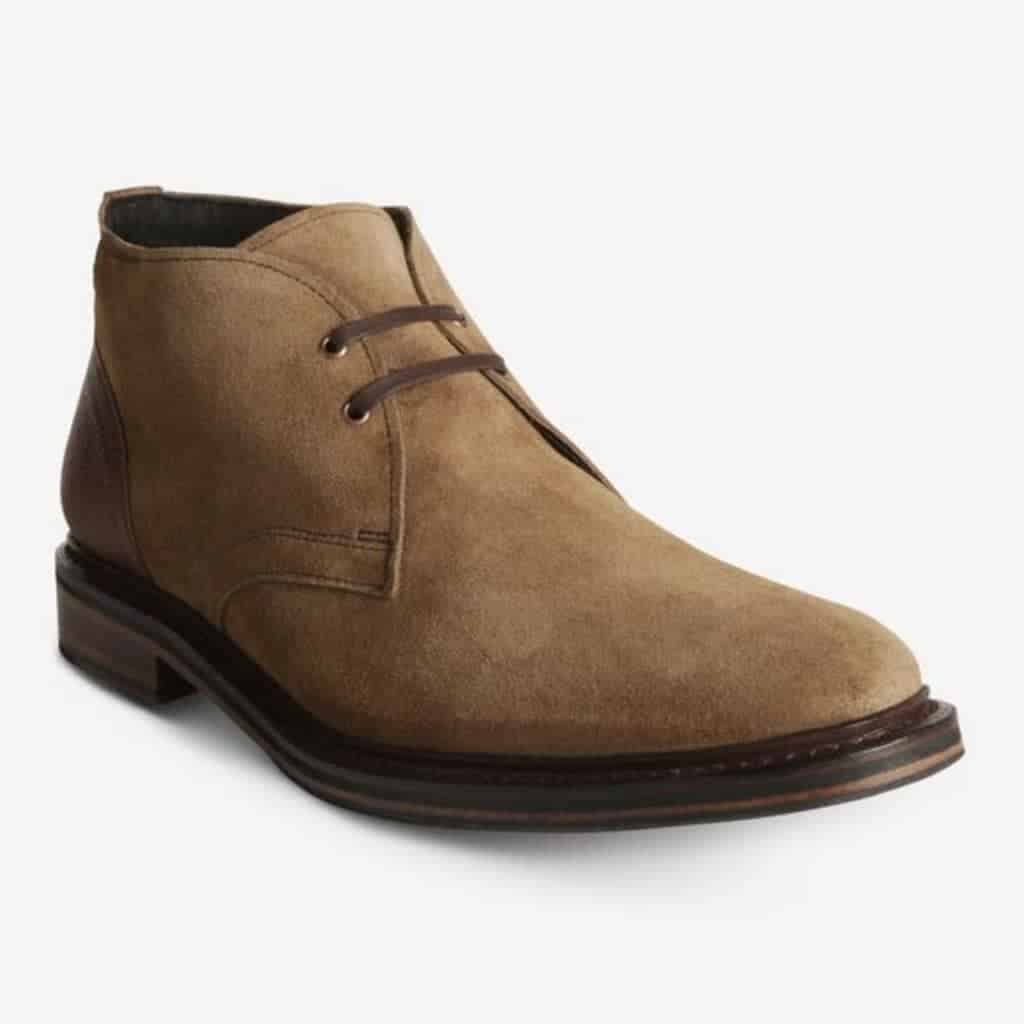 Allen Edmonds is an upscale footwear brand offering high-quality shoes that can last more than a decade.
The Cyrus Chukka Boot is made with light brown suede and has a unique leather heel. It's a blend of premium European suede and calfskin leather.
It's also designed with the traditional two-eyelet lacing structure and a plain toe for simplicity.
Overall, the Cyrus Chukka Boot is uniquely designed, comfortable, and durable.
Promising review: "For the first time I've found a shoe that fits me perfectly and is very comfortable. My favorites are the suede chucka boots. Excellent fit. I get great compliments from people all the time." -Jim
Frequently asked questions about chukka boots
The following are answers to common questions about chukka boots.
Are chukka boots in style?
Yes, chukka boots are in style and will continue to be. They're an ankle-high boot that'll remain a menswear classic.
What do I wear chukka boots with?
For a casual outfit, wear chukka boots with jeans and a t-shirt. If you want to elevate your outfit, wear them with chinos and a collared shirt.
Can I wear chukka boots with shorts?
No, only wear chukka boots with full-length pants. They look the best with jeans or chinos.
Conclusion
The chukka boot is stylish, dependable, and versatile. It's a timeless staple that looks good with jeans and a t-shirt or a casual suit.
Whether you choose leather or suede, you need at least one pair of chukkas in your wardrobe.
Featured photo by Nico Villanueva/Next Level Gents.
About David Em
Founder
David Em is the founder of Next Level Gents, the ultimate destination for tips and advice about style, grooming, fitness, and success.