In partnership with Johnston & Murphy and Trask.
Chukka boots are classic and versatile footwear items that every man should own. If you want to know how to wear Chukka boots, this is your complete guide.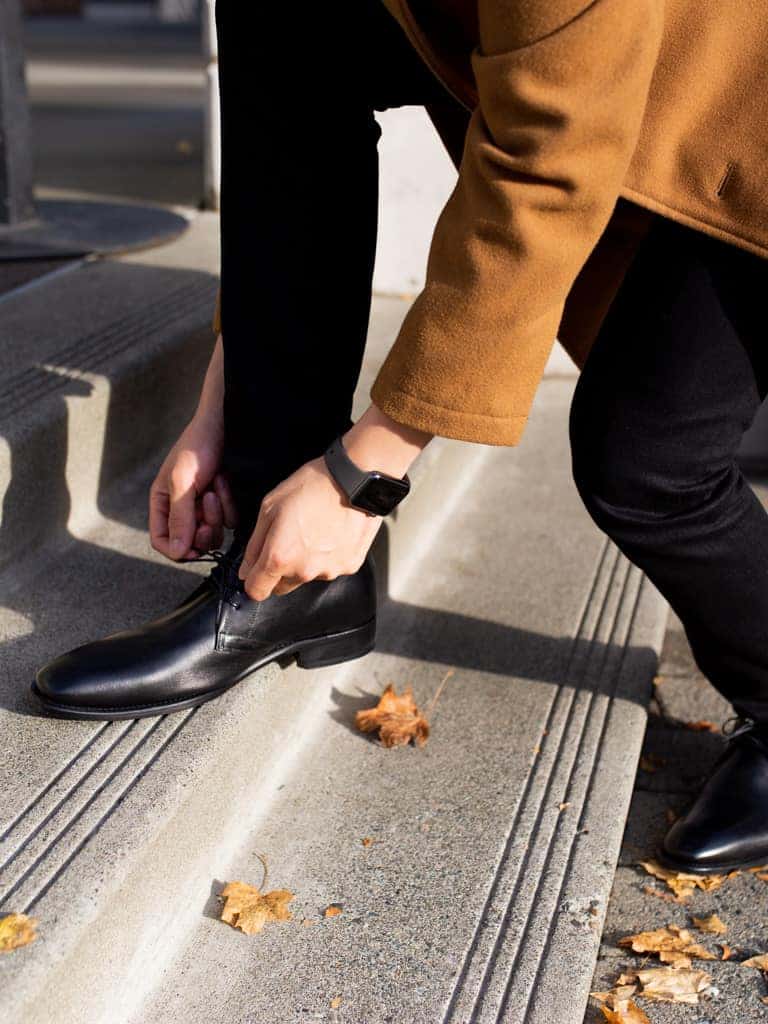 This post contains links to products from one or more of our advertisers. We may receive compensation when you click on links to those products. For more information, read Affiliate Disclosure.
Contents:
What are chukka boots?
Chukka boots are classic ankle-high and round-toed boots. They normally have two or three eyelets (small holes for the laces) along with thin laces. Chukkas are often made of leather or suede.
Another boot that's similar is the desert boot. A chukka boot, regardless of the material, is an ankle-high boot with two to three eyelets.
Desert boots are a type of chukka boots. However, there are other kinds of chukka boots which aren't desert boots.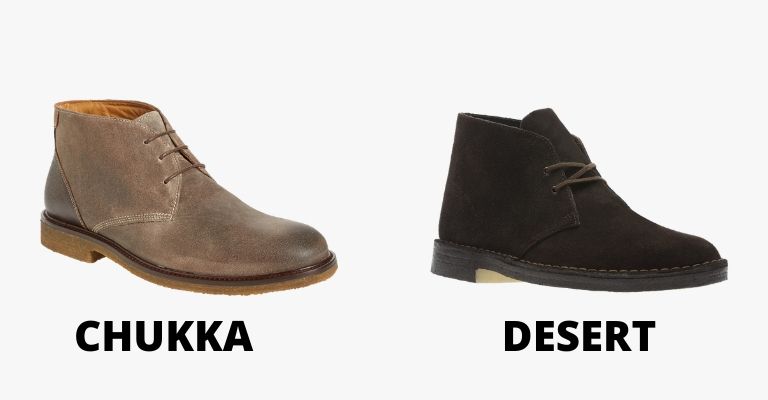 Here's a comparison: cheese pizza is a type of pizza, but not all pizzas are cheese pizzas. The same goes for comparing desert and chukka boots.
The best color
Brown and black dominate when it comes to these boots (and many others). There are other colors such as tan, gray, and navy.
However, due to versatility and their classic look, black and brown should be your top choices.
Suede vs. leather
If you're buying your first pair of Chukka boots, start with a leather pair because they're more durable, which means they'll last longer. After getting a leather pair, your second should be suede.
Suede Chukka boots are great for casual wear, from jeans and a t-shirt to chinos and a sport coat. It also creates texture within your outfit, which helps the overall look.
The sole
The soles of these boots will tell you their formality. If the sole is thinner, it's more formal while a thicker sole is more casual.
Aside from the thickness of the sole, there are two common types: the Commando/Lugged sole or a smooth rubber/wood sole.
Commando/Lugged soles offer traction, weather resistance, and durability. They're great for being outdoors but are generally more casual.
A smooth rubber sole looks more formal and "dressy", which is great for indoor occasions, work, or during the spring and summer.
How to wear chukka boots
Chukka boots are an essential pair of boots that every man should own. If you don't own a pair yet, it's time to invest in one or even a couple.
Now, that you know the background of the Chukka boot, here's how you can look great wearing the versatile boot.
Black leather chukka boots
Black leather chukka boots are sleek and match with almost everything.
All black with a camel coat
Shop the look:
The leather biker jacket
Shop the look:
A sweater and chinos
Shop the look:
Dressed up with a sportcoat
Shop the look:
Brown leather chukka boots
Brown leather Chukka boots look great with many different outfits. Brown is a fantastic color to wear during Autumn and Winter and here are 4 ways to style brown Chukka boots.
Dress pants and a sweater
Shop the look:
Dressed up for the office
Shop the look:
Navy blue topcoat
Shop the look:
The utility jacket
Shop the look:
The cleaning process
To ensure your boots last long, it's important to regularly clean them. Here's how to clean your Chukka boots.
Take the following steps to clean and shine leather:
Insert a shoe tree or newspaper in the boots.
Use a soft brush to remove dirt.
Remove the shoelaces.
Apply polish (make sure the color matches) to the entire boot.
Let it sit for 15 minutes.
Brush the boots with a horsehair brush.
Apply more polish to the heel and toe (makes it shinier than the rest).
Take the following steps to clean suede:
Insert a shoe tree or newspaper in the boots.
Use a horsehair brush to brush off dirt.
Use a suede eraser to get rid of scuffs and marks.
Spray with suede protector.
Frequently asked questions
When should I wear chukka boots?
There's a reason these boots are a timeless favorite boot, they can be dressed up or dressed down easily. You can wear them for casual, smart-casual and business-casual occasions.
Can they be worn in the summer?
Yes, there are Chukka boots that are thinner and can pair well with a summer outfit. In fact, suede Chukka boots are perfect for the warmer months and you don't have to worry about ruining the suede with rain or snow.
Conclusion
Chukka boots deserve a spot in your closet because they're timeless, versatile, and can easily take your outfits to the next level. If you're looking to upgrade your shoes or wardrobe, Chukka boots are a priority.
Additional style resources
Want to learn more about shoes, or what to wear with different shoes? The following are a few more resources:
Featured photo by Nico Villanueva/Next Level Gents.