Whether you're new to working out or you've been exercising hardcore for years, the following jump rope workout will burn a lot of calories.
We receive a commission when you buy through affiliate links on this page.
It's something you did as a child, but you may want to consider picking up the jump rope again. It's one of the most effective ways to work out.
Related: Bodyweight workout plan for beginners
Jumping rope is an excellent and quick way to burn calories and get in a good workout. You don't need much space, equipment, or time.
According to the Journal of Sports Science & Medicine, it's more than a method of cardio. Jumping rope also improves your balance and coordination.
Jumping rope can replace or be an additional exercise for cardio, which strengthens your heart and lungs.
There are other cardio methods, such as jogging. However, jumping rope is convenient because you can do it indoors or outdoors. Since you stay in place, you don't have to worry about your route.
Related: 12 best bicep exercises
It's also more intense. In less time, you can get the same benefits. Plus, jumping rope isn't as hard on your joints.
Overall, a jump rope workout routine is a must-do. You'll burn calories, which, combined with good nutrition, leads to fat loss.
Related: 7 best shoulder exercises to add size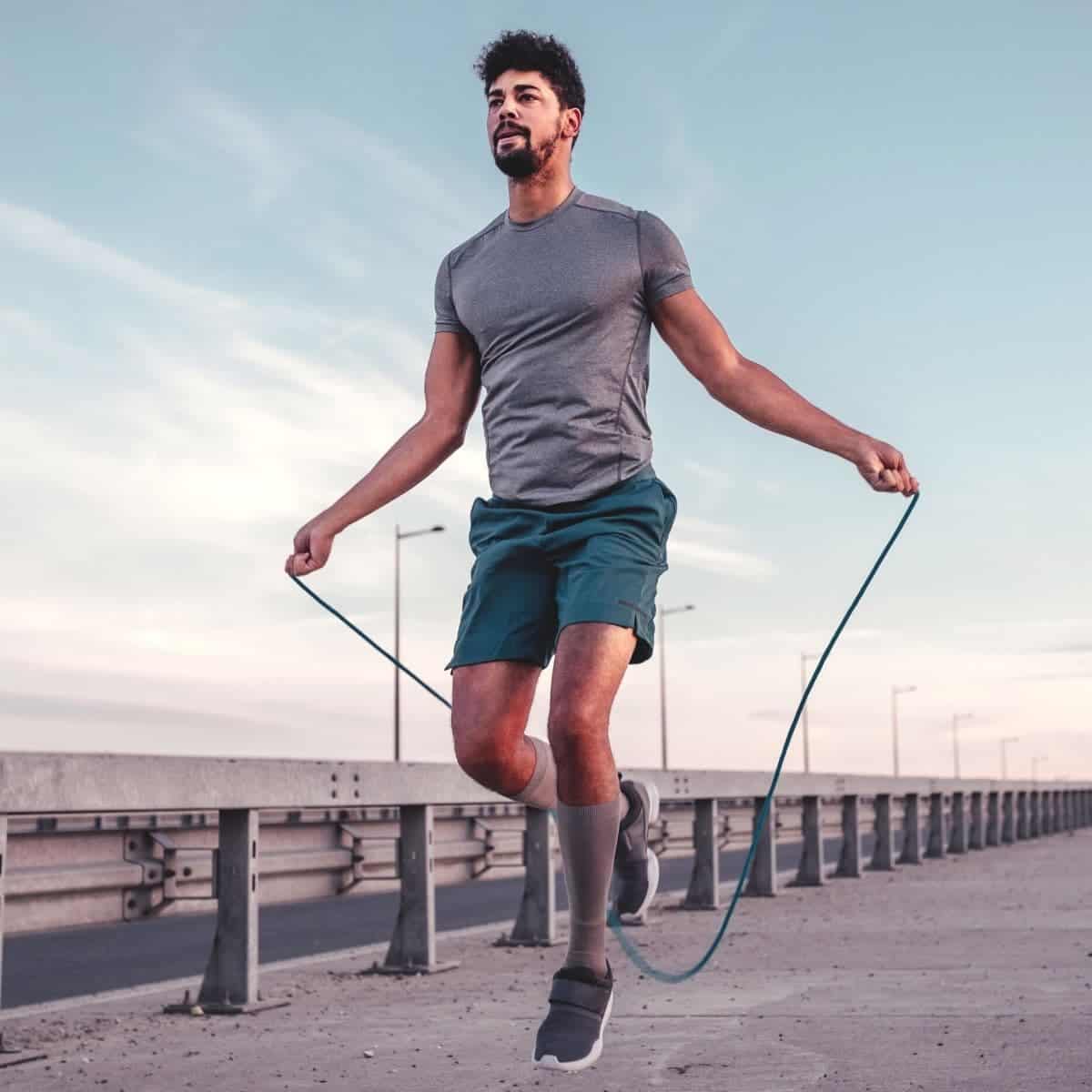 What you'll need
Jump rope workouts are incredible because you only need a rope. It doesn't require you to go to a gym or buy a ton of equipment.
If you don't have access to a jump rope, you can also mimic the exercise with your imagination. Jump and pretend you're using a rope. It's still effective.
If you need a new jump rope, Crossrope offers the $99 Get Lean jump rope.
It's a lightweight rope designed to burn fat, build lean muscle, and provide an effective cardio session.
It comes with two ropes, a 1/4 pound and a 1/2 pound rope. It also has slim handles, which makes it easy and comfortable to grip.
For a budget pick, go with the DEGOL jump rope from Amazon. It's $9.99 and gets the job done.
When you're buying a jump rope, make sure you buy the right length. Most brands will tell you what the correct length is.
Related: 9 best adjustable dumbbells of 2021
If you're buying one in person, stand on the middle of the jump rope. The bottom of the jump rope handles should be at the same level as your armpits.
While a jump rope is all you need, other things can enhance your experience.
One of the best upgrades to get is a new pair of shoes. Since you're jumping, get shoes that absorb the impact when you land. Shoes that are designed for running or CrossFit generally work well.
Another way to improve your experience is to get a jump rope mat. It adds a second layer of impact-absorbing, which can benefit your joints.
The EliteSRS Non-Slip Jump Rope Mat from Amazon is $64.99 and measures four feet long. It's made from durable vinyl foam, and the mat works inside or outside.
How to jump rope properly
By using the proper technique, you'll reduce your chances of injury and maximize your workout.
Related: 11 best back exercises to build muscle
There are also several jump rope steps, such as the basic jump and alternating foot jumps. However, they all use similar principles.
To start properly jumping rope, gently hold the handles with your fingers instead of your palms.
Hold the rope out right off of your hips and keep your elbows tucked back. Then, start swinging the rope with your wrists, not your elbows or shoulders.
With your knees slightly bent, jump lightly. You don't need to jump too high. Instead, jump enough to get over the rope.
Remember to keep good posture and tighten your core.
At first, it may feel uncomfortable, but keep trying. Once you get the hang of it, you'll do it seamlessly and have an amazing workout.
Related article: The best indoor cycling bikes under $1,000
Jump rope workout routine
Now that you have everything you need to safely and effectively start jumping rope, it's time for the workout.
Start by warming up for 10 minutes. You can do a light jog in place, burpees, jumping jacks, or use the jump rope at a light pace.
After you've warmed up, the workout is a circuit. Repeat the following circuit 10 times:
Jump rope for 30 seconds.
Rest for 30 seconds.
Depending on your endurance and abilities, you can reduce or increase the number of sets. You can also change the length of time for jumping.
Another way to take your jump rope workout to the next level is by adding other exercises. If you're ready for a challenge, do the following circuit 10 times:
Jump rope for 45 seconds.
20 bodyweight squats.
20 push-ups.
20 crunches.
10 single-leg lunges.
30-second plank.
Rest for 45 seconds.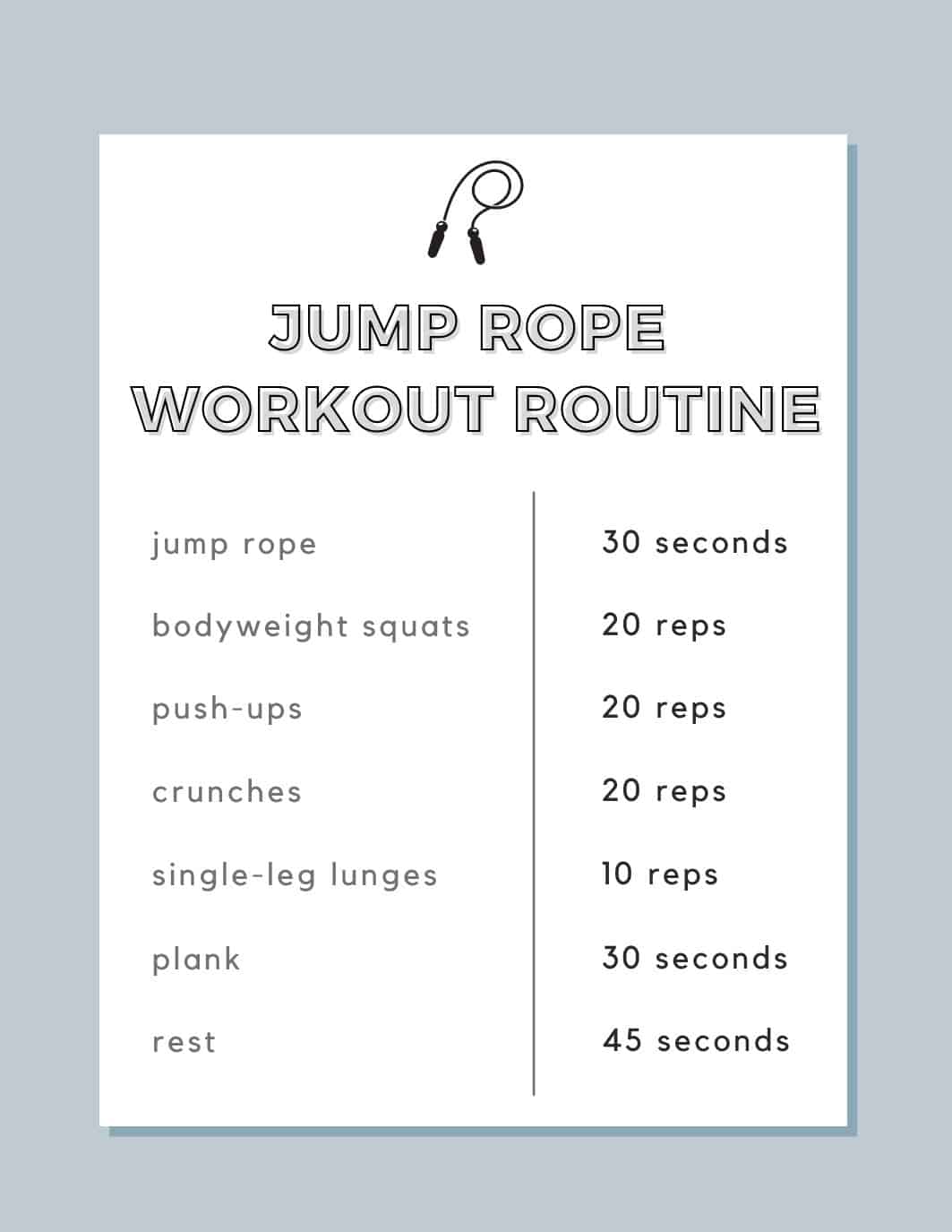 Conclusion
Jumping rope is an excellent way to get your cardio workout in, build your endurance, improve your balance and coordination. The best part is that it requires minimal equipment.
You can do it anywhere and anytime. Implement jumping rope to your workout routine today.
Featured image courtesy of Canva.
About David Em
Founder
David Em is the founder of Next Level Gents, the ultimate destination for tips and advice about style, grooming, fitness, and success.