Signet rings are a trendy statement accessory. However, they have a lot of meaning. Learn what they are and why they're important.
Estimated reading time: 6 minutes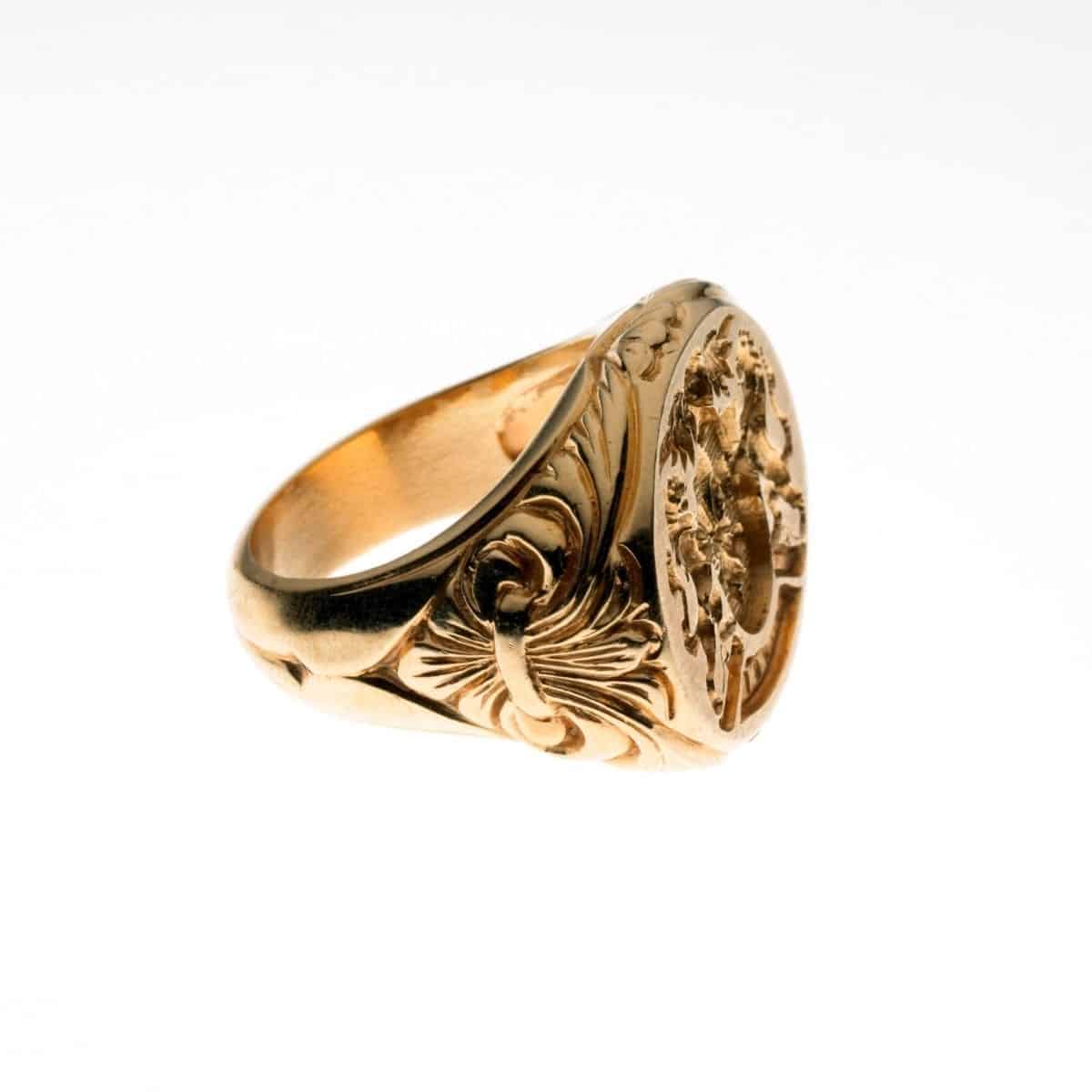 What's a signet ring?
A signet ring is slightly different from the ordinary ring design, as the top of the ring is wide and flat.
Related: The best linen pants for men
The wide, flattened top is usually engraved with an identification mark or symbol, serving as a mark of pride and elegance to the wearer.
Also known as the gentleman's ring, a signet ring was typically worn by men of high society. They would engrave different initials on these rings depicting their establishments, family names, and other meaningful symbols.
Related: What rings mean on each finger
The word signet comes from the word Signus, which means sign in Latin. Historically, the word signet means a small seal.
You can easily depict signet rings from their raised flat center, which often sits above the rest of the entire ring.
The flat centerpiece has a sign, symbol, letter, or image. Jewelers use molds to create the signage depending on the order and design.
Today, everybody can rock a signet ring. They reflect elegance and class to any wearer.
Related: How to write an action plan
People of a specific organization or union can have signet rings that represent the group or that other people can recognize them as part of it.
Powerful people also wear signet rings with their initials or photograph as a way of recognition. It has always represented some class and nobility.
The signet ring has a rich history associated with only high society and influential people.
The trend of adorning signet rings disappeared when people started dissociating from being recognized as wealthy, but it's making a comeback yet again.
It once acted as a sealing document for many communities but has lost that essence in time.
History of signet rings
Signet rings date as far as back as 3500 BC to signify special documentation. Back then, only men had the right to own anything hence the need to have documentation.
The first people to create signet rings were Egyptians, the culture was adopted worldwide.
Related: What's a watch bezel? Different types and how to use them
The people usually wore signet rings to symbolize power and identification.
So, many memoirs had descriptions of influential men in society wearing signet rings such as legal advisors, priests, bishops, doctors, and other state leaders.
Signet rings were also given to young men as initiation gifts when they reached maturity at different ages in history.
Sometimes, people that become eighteen or twenty-one are given signet rings as gifts.
Signet rings were also perfect for rewarding high-society members when they work exceptionally hard to attain specific titles.
Businessmen like to accessorize with them. The rings would have their organizations' symbols engraved on them. However, they no longer serve as official documentation in public offices.
Different styles
If you're planning to integrate signet rings into your outfits, learn how to pull off the look.
Signet rings are excellent indications of status and wealth. However, they can be worn with casual or formal outfits.
The ring has five unique designs from which you can choose to depict your specific tastes.
1. Bulbous-shaped centerpiece
A bulbous-shaped centerpiece was the traditional style of signet rings. It's a rounded oval 3D figure, which was easy to shape with ancient tools. Specific symbols were engraved on the oval shape using wax or clay molds.
2. Round-shaped top
Round-shaped tops are gorgeous and famous for engraving face symbols or letters. Most people prefer the shape to easily engrave the associated letters or an organization's logo.
3. Octagon-shaped centerpiece
Octagon-shaped centerpieces are beautiful and would appeal to individuals who prefer geometric-shaped jewelry. The raised top has eight sides, adding a dash of sophistication.
4. Flat oval-shaped top
Flat oval-shaped signet rings are well-known as they mirror the original figure. They're perfect for adding other materials, moldings, or even gemstones.
5. Oxford signet ring
The Oxford signet ring is also very famous, primarily due to its unique, appealing design. It's square-shaped and has an angle that resembles a cushion. It also has rounded corners, is beautifully shaped, and is quite widespread.
How to wear a signet ring
Regardless of the shape you choose, signet rings add elegance to your outfit.
If you have wide fingers, the geometrical or oxford shapes are the best. However, if you have slender fingers, the rounded figures will work best on you.
Some families also pass down signet rings as heirlooms for memories and to maintain traditions. Members of the Royal family wear signet rings as handed down relics.
In Europe, different countries have their men wear them according to specific details. In France, men wear signet rings on the most right finger of the left hand.
Swiss men wear the rings on the pinkie finger of their right hand, or the most right finger.
In the UK, the orientation of a man's dominant hand or side determines how you wear a signet ring. For example, if you're left-handed, you'd wear it on the right hand's pinkie, and vice versa.
It would be best to avoid putting it on any left finger since it could signify marriage.
If you're only interested in the aesthetics, you can wear it with a casual or smart-casual outfit, such as jeans and a blazer, turtleneck, or polo shirt.
The signet ring pairs exceptionally well with elegant suits and coats. They also come in different shades of gold.
They're generally made from 18, 14, or 10-karat gold with a flat top that can be engraved.
The gold could either be rose gold, white gold, or yellow gold according to preference. Some signet rings can also be molded from silver, which is much more affordable.
Conclusion
Signet rings still symbolize significant achievements, but they also don't have to be tied to anything.
You can get signet rings in many jeweler shops, but they can be expensive if it's made from gold or silver.
You can also get gemstones and other precious materials attached to these rings to match different outfits
Related articles:
Featured image courtesy of Canva.
About David Em
Founder
David Em is the founder of Next Level Gents, the ultimate destination for tips and advice about style, grooming, fitness, and success.