Grooming makes you look more attractive and feel better. Learn 10 timeless ways to take better care of your skin and hair.
We receive a commission when you buy through affiliate links on this page.
Grooming has benefits that range from feeling good to making great first impressions. It helps you excel in all aspects of your life.
Often, your appearance is the first chance for you to present yourself well to others, which is why you should make sure you're taking care of how you look.
The following are benefits of being well-groomed:
Confidence: When you look great externally, you'll feel more confident and realize that you can achieve more. It gives you the confidence to do your best in all walks of life.
Better hygiene: It's not completely about having nice hair and wearing well-fitting clothes. Grooming yourself also shows that you care about personal hygiene, which makes you more enjoyable to be around.
Attractiveness: Being well-groomed and wearing well-fitting clothes makes you more attractive because you'll look put-together.
Get compliments: By looking good and well-kept, you'll draw positive attention to yourself. People will compliment you on how good you look and smell.
That said, grooming can benefit many areas of your life. When you're forming a routine, the time it takes and the products you use don't matter as much.
Related: Effective men's skincare routine
What matters the most is that it works for you and that you do it consistently.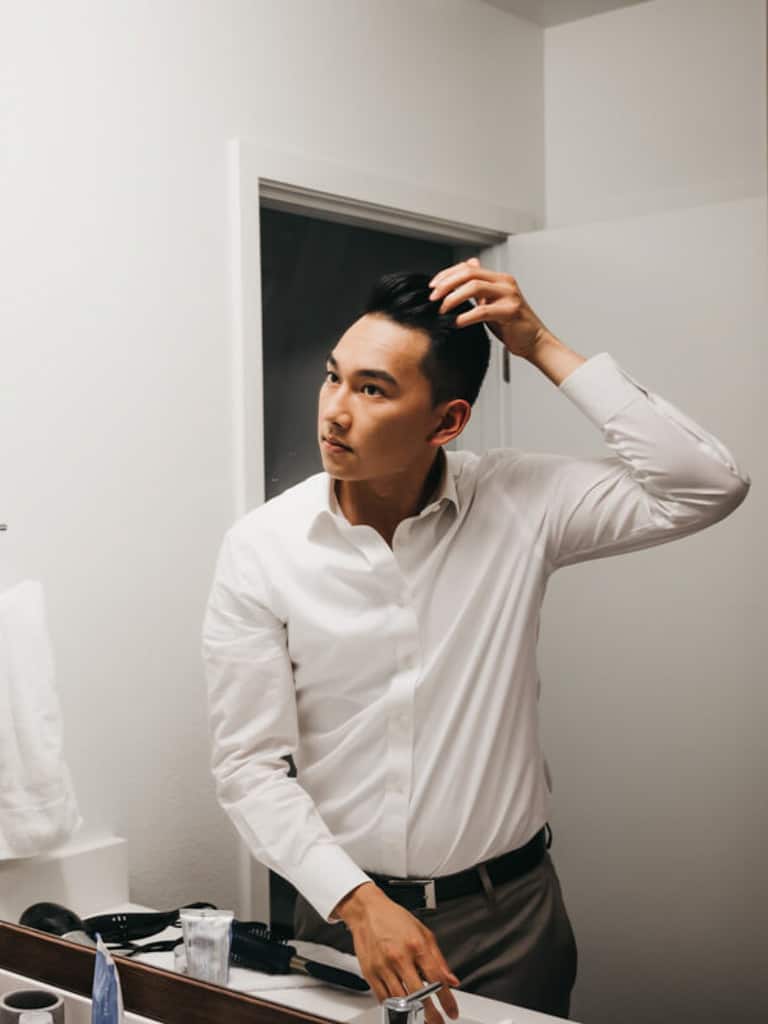 1. Follow a haircut schedule
Find a good barber and hairstyle that suits you then get on a schedule. If you notice that you need a haircut, everyone else has too.
The time between haircuts depends on how quickly your hair grows. Generally, 3 to 4 weeks is enough to look well-kept without looking too perfect.
Related: Best hair products for men
When you're getting your haircut, it's important to be specific when you're telling your barber about the hairstyle that you want.
If you're trying a new hairstyle, consult with your barber to see if it's a good fit for your face shape.
2. Take care of your mouth
Oral health is important because the bacteria build up in your mouth can lead to plaque, tooth decay, and gum disease (source: College of Dentistry).
Taking care of your mouth will help prevent these issues and bad breath.
Related: Oral care routine tips
The following are helpful tips that the CDC recommends:
Brush your teeth thoroughly.
Floss to remove dental plaque.
Visit your dentist regularly.
Don't use tobacco products.
Limit drinks that contain alcohol.
On a daily basis, brush, floss and use mouthwash to rinse.
3. Have a skincare routine
Simplicity in your daily skincare routine will ensure that you do it. Consistency will give you the best results.
For skincare products, be sure you choose products that match your needs. If you have oily skin, use products that are made to help with oily skin. The same goes for dry skin (source: Aveda Institute).
3. Cut your nails
Either do it yourself with nail clippers or get a professional manicure. Regardless of the method, well-groomed nails are essential for maintaining a clean look.
Cut your nails every week or two depending on how quickly your nails grow.
The following are tips for cutting your nails:
Don't cut straight across.
Leave 1 to 2 centimeters of the white part of your nail visible.
File your nails for smoothness.
Moisturize your hands after cutting your nails and throughout the day.
4. Groom your eyebrows
Your eyebrows are one of the most important features of your face which is why you should make them look their best.
The goal of grooming your eyebrows is to make them look clean while maintaining your natural shape. Grab a pair of tweezers or see a professional to clean up your eyebrows.
If you want to do it yourself, pluck between your eyebrows to avoid a unibrow. You should also pluck above and below to make them look neat.
To make the experience less painful, pluck your eyebrows after you shower because the warm water will make it easier.
5. Find your scent
Wearing a fragrance will make you smell fresh throughout the day. When you apply cologne, make sure your skin is clean and dry.
This will ensure the smell blends with your natural oils instead of water or dirt.
Related: Best cologne for men
Also, be sure to apply one spray at a time so that you don't spray too much. The goal is to have a subtle smell instead of one that overpowers everything else.
You can't see it, but it's there. If it's done right, the cologne will enhance your style and confidence.
6. Trim your beard
Trimming makes your beard look well-kept and gives it shape. When you trim your beard, start with the longest length and slowly trim it down.
An important factor is to figure out where your beard neckline is. To find your beard neckline, place two fingers above your Adam's apple. This will make your beard look neat and defined.
If you can't grow a beard, keep your chin area clean shaved. This will ensure that you look professional and well-groomed.
7. More conditioner, less shampoo
You don't need to wash your hair with shampoo every day. Washing your hair too often can lead to a dry scalp.
Related article: The best dandruff shampoos
Depending on your activity level, 3 times a week is a good amount (source: Cleveland Clinic).
That said, a good regimen to follow is to use shampoo every other day while using conditioner every day.
8. Shave the back of your neck
Shaving the back of your neck can add a few days or even a week between haircuts.
The best way to do this is to use two mirrors, a large one that's mounted to the wall and a small handheld mirror.
Take the following steps to shave the back of your neck:
Stand with your back facing the wall-mounted mirror and hold the handheld mirror to see your neck.
Apply a think layer of shaving cream without getting it on your hairline.
Shave a horizontal line across your neck that follows your hairline.
From the horizontal line, shave down and vertically with short strokes.
Rinse the back of your neck with water.
Pat dry and apply lotion.
Related article: How to Shave Your Pubic Hair
9. Wear sunscreen
Whether it's sunny or cloudy, wear sunscreen. It's an important preventative skincare habit that'll protect your skin from UV rays, lower your risk of skin cancer, prevent early aging, and keep your skin tone even.
Use sunscreen with SPF 30 or higher (source: EHE Health).
10. Change your razor
Change your razor every 5 to 10 shaves. It'll help you maintain good hygiene because dead skin, bacteria, and hair will accumulate on the razor, even if you wash it after your shave.
As you use the razor, it'll wear out and become less effective. Swapping your razor will help you get a cleaner, closer, and more effective shave.
Conclusion
Use these timeless grooming tips to maximize your attractiveness and confidence. Taking care of the small details on a regular basis will give you the best results.
Featured photo by David Em/Next Level Gents.
About David Em
Founder
David Em is the founder of Next Level Gents, the ultimate destination for tips and advice about style, grooming, fitness, and success.