Watches come in many different sizes, styles, and materials. Wear one like a pro by understanding foundational watch rules.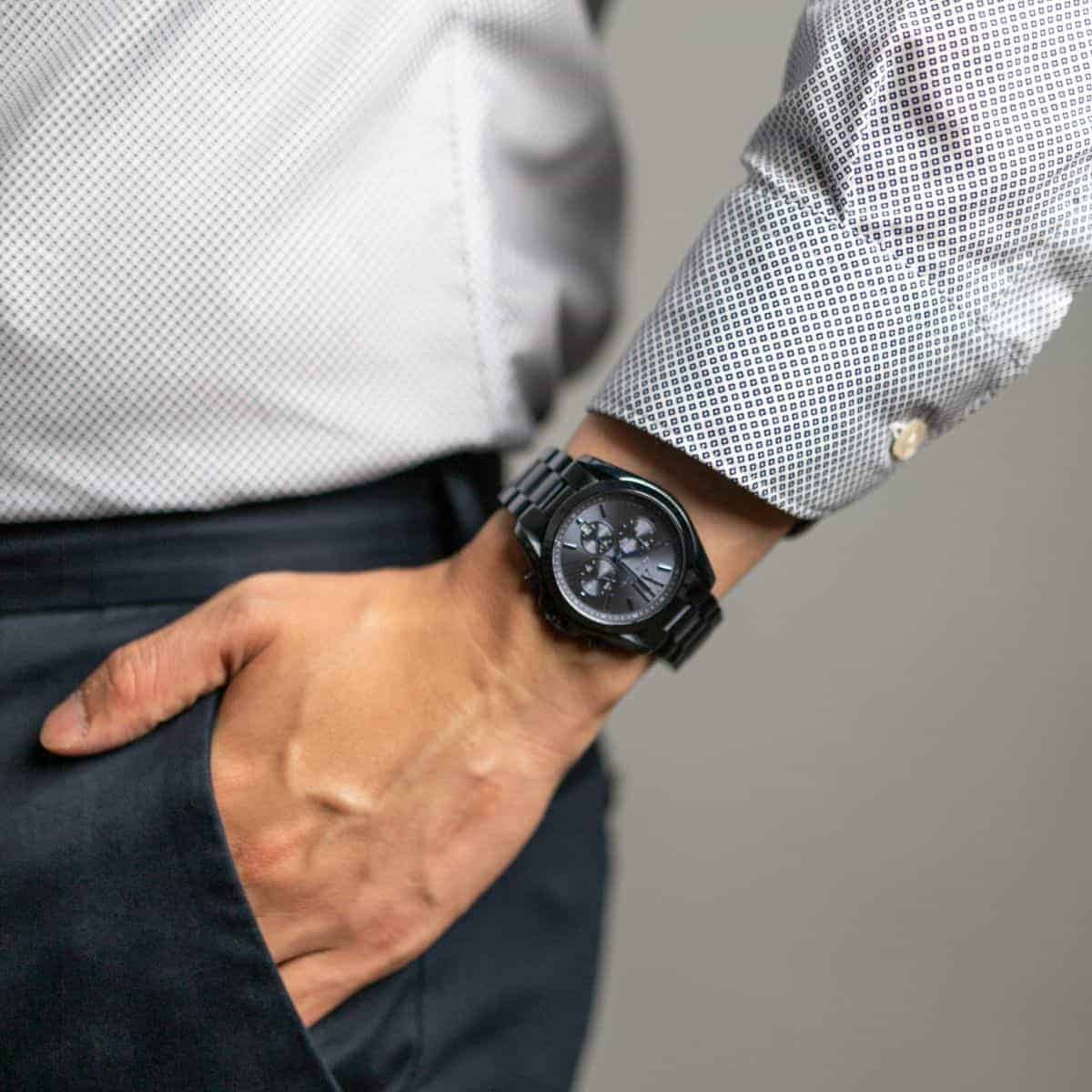 A watch is an excellent men's accessory. There are many styles and price ranges. When you're wearing a watch, the goal is to look dapper.
Related: What's a watch bezel? Different types and how to use them
However, there are many mistakes that you may be making if you don't yet know the essential watch-wearing rules.
The following are the rules that you need to know to ensure you look great while wearing a watch.
Wear it on your non-dominant side
While you can wear your watch on either side, the ideal side is the non-dominant one.
If you're right-handed, wear your watch on your left wrist, and vice versa if you're left-handed.
Related: 20 best luxury watch brands
It's more about functionality than it is about looks.
When you're living your life and doing daily activities, wearing a watch on your dominant side leaves it vulnerable to damage.
You might bump it into something or scratch it. The watch can also get in the way, which can be annoying. That's why it's best to wear it on your non-dominant hand.
Place it before your wrist bone
There's a correct location for your watch. It should sit right before your wrist bone, not below it.
Related: Best chronograph watches and what you need to know
Before understanding this, like the majority of people, I thought a watch was supposed to sit on the wrist bone.
This led to me not wearing a watch at all because it restricted my range of motion and it dug into my hand, which caused pain.
That's why it's best to wear a watch before the wrist bone. You'll be able to freely move your hand, and it won't cause any pain or get in the way.
Plus, as you start wearing your watch properly, you'll notice that it looks better at that location on your wrist.
Not too large or small
The right watch size is crucial. The proper case size depends on the size of your wrist.
For a while, extremely large watches were in style. Unless you love the look of a large watch, avoid it.
It's similar to wearing big and baggy clothing. It just doesn't look good.
Related: What your watch water resistance numbers mean
Like clothing, there are well-fitting and poorly-fitting watches.
It's important to wear one that fits you because it ensures that you look your best.
When it comes to the size of a watch, three main factors are most important.
Make sure you pay attention to the case diameter, case thickness, and lug to lug measurement.
The case diameter is typically the first thing that's mentioned. It's also the measurement that most people already know and understand.
When you're looking at the case diameter, whether or not your watch has a bezel makes a difference.
If you take two watches with the same case diameter and one has a bezel while the other doesn't, you'll notice that they look completely different.
So, case diameter is important but it's not the only factor you should consider.
Related: How long should a tie be?
Overall, the best case diameters that'll fit the majority of people is between 36 and 44mm.
If you have a thinner wrist, in most cases, smaller case diameters, such as 36mm or 38mm look better and with thicker wrists, you'll be on the larger end of case diameters, such as 42mm and 44mm.
Another important factor is the case thickness. When you're wearing a watch, the thickness plays a role in how bulky or slim it looks on your wrist.
Lastly and arguably the most important is the lug to lug measurement.
It's the distance from the top of the lug to the bottom of the lug in millimeters.
A longer or shorter lug to lug distance can make a watch feel and look bigger or smaller.
Typically, it's not provided. You may have to measure it or dig through other resources to find it.
However, it's important because it determines how the watch will fit and look on your wrist.
Make sure it has a snug fit
This rule goes hand in hand with the previous one. Instead of focusing on the case of a watch, make sure your watch fits well around your wrist.
Related: 10 best watches under $500
When you're wearing a watch, it shouldn't slide up and down.
The watch should fit snug around your wrist, above the wrist bone.
If you have a metal watch, you can take it to the place you bought it at or a watch repair shop to get it fitted.
You can also buy a kit to do it yourself.
Watches that have leather straps are convenient because they're easy to adjust, making it easy to get the perfect fit.
Also, it'll be very helpful to measure your wrist and know the circumference.
You can use a tape measure and go around your wrist bone.
Match it with your outfit
When you're wearing a watch, make sure it's the right case and strap for the occasion and outfit.
When you're wearing a suit, stick to a dress watch. Some sleek dive watches work, too.
For everything else, you can wear a dive, chronograph, pilot, or nice field watch.
Also, make sure your metals are matching. If you're wearing a silver watch, wear a belt with a silver buckle.
With gold watches, wear a belt with a gold buckle. It's also important to pay attention to the strap.
Watches with a rubber strap are casual and offer sporty look.
Stainless steel is a great all-around material and leather can be dressed up or down based on the case and design.
When you're matching your watch with your outfit, you can change your watch strap.
This isn't something that only smart watches can do. Most watches allow you to change the strap.
All you need to know is the lug width. Then, you can purchase a strap that'll fit. To change it, you'll need a spring bar tool.
Burgeon makes an excellent one and it's around $20 from Amazon.
The ability to change your strap allows you to maximize each case. That way, you don't have to buy a ton of different watches.
High-quality watches can be expensive, that's why changing the strap is a great way to save money if you're not looking to buy another watch.
Don't wear the same watch every day
If you wear different outfits throughout the week, the same watch won't match each outfit.
You wear different outfits to work, a party, dinner, and the grocery store. So, your watch should match your outfit.
For example, a watch for the daytime should have a light-colored dial. At night, you can wear one with darker dials.
Begin building a collection of watches. It ensures you have one that pairs well with the different outfits you wear.
Be discreet when you check your watch
When you're with others, avoid checking your watch. It comes off as rude because it shows that you're not interested.
Checking your watch shows that you have other things on your mind.
Instead, be present and give people your full attention.
If you need to check your watch, be discreet or excuse yourself.
Frequently asked questions about watches
The following are answers to common questions about watches.
Can you wear a dive watch with a suit?
Dive watches are bulky and don't look good with a suit. When you wear a suit, the watch should be able to slip under the sleeve. So, stick to slim dress watches with suits and tuxedos.
Is it okay to wear an oversized watch?
Anything over 50mm is considered an oversized watch. Unless it fits your style, avoid wearing one. Most people don't have wrists large enough to sport an oversized watch. Also, it doesn't match the proportions of your outfit. So, it's best to wear watches that fit your wrist.
Should I wear my watch to bed?
When you go to sleep, take off your watch. It can affect your sleep quality and comfort. Also, it can be a distraction that keeps you up. So, go to bed without a watch on your wrist.
Conclusion
Remember, your watch should be on your non-dominant side and sit right before the wrist bone.
The size of the watch also matters. It should fit your wrist well.
Lastly, wear the right watch with the right outfit and occasion.
By following these rules, you'll look great while wearing a watch.
Featured image by David Em/Next Level Gents.
About David Em
Founder
David Em is the founder of Next Level Gents, the ultimate destination for tips and advice about style, grooming, fitness, and success.