The length of a tie has a big impact. Too short, and you'll look funny. Too long, and it draws unwanted attention. The waistband is proper.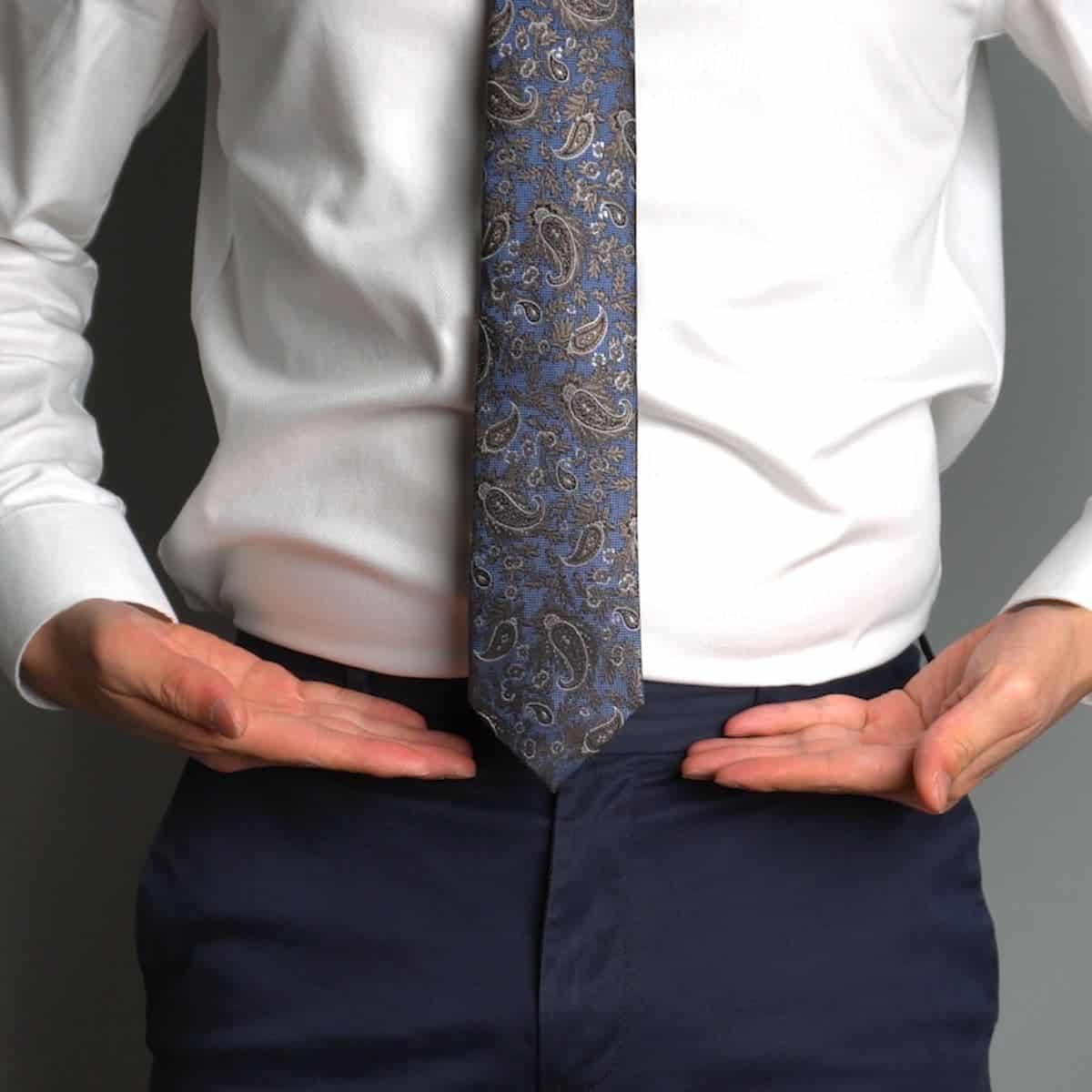 The proper length of a tie
The proper tie length is for the tip to end at or just above your waistband. If you're wearing a belt, the tie will hit the middle or top of your belt. This goes for square and pointed ends.
Related: How to tie a tie
While you'll see people with shorter and longer ties, remember that the perfect spot is at your waistband.
The reason why it's the ideal length is that it looks the best and accounts for movement.
When you're wearing a suit and button your jacket, the tie won't show at the bottom. It's important for maintaining the clean lines of a suit.
Related: How to fold a dress shirt for drawers and travel
Another benefit is that you can move around without the tie dropping down too far or going up too high.
Since you won't be staying in the same position all day, being able to move around with your tie on is crucial.
Aside from the tie ending at your waistband, make sure the tail is shorter than the blade.
Related: Should men do their eyebrows?
The tail is the thin end, and the blade is the wide end of the tie. You can use the keeper or a tie clip to hold them together.
Never use glue or tape to keep the blades of your tie together. It looks unprofessional and can ruin your tie.
If you're wearing a casual suit or walking around, you can skip the keeper and tie clip to give it a more relaxed look.
Watch your posture
Your posture plays a role in the actual length of your tie throughout the day.
Chances are, you're tying your tie with perfect posture. Shoulders back, stomach pulled in, and chest up.
However, that's not the right way to do it.
Related: 8 best polarized sunglasses for men
The ideal way to tie your tie and ensure it's the perfect length is to stand like you normally would.
Use your normal posture because that's how you'll be the rest of the day.
If your tie ends at your waistband with your normal posture, you've succeeded.
Tie length history
Historically, ties didn't serve a functional purpose, as it was all about aesthetics.
Throughout the early 1900s, men wore ties that ended at or above their navel. Typically, they also wore vests or high-waisted trousers.
Related: 12 best wallets for men
With a vest, it covered their tie, which meant that you couldn't see the bottom of it. With high-waisted trousers, the tip of their tie ended at their waistband.
Therefore, it was the correct length. Since pant rises have changed over the years, the perfect length also changes.
However, the fundamentals remain. The end of your tie should be at or slightly above your waistband.
Related: 6 best men's pajama sets
Take the time to tie it again
If you tie your tie and realize it's too short or long, take the time to tie it again.
While a shorter tie can give you a vintage look, most of the time, it makes you look funny. People will think you look like a kid or that you don't know what you're doing.
Related: 15 best men's bomber jackets
On the other hand, a long tie doesn't look good. It comes out of your jacket, which breaks the clean lines of a suit. It also draws attention to your crotch, which is unnecessary.
It'll only take a minute to undo your tie and tie it again. By wearing your tie at the proper length, you'll look incredible.
Actual length of the tie
The standard tie length is 57 inches. However, the length you choose depends on the type of knot you'll be using and your height.
Related: 10 best Tom Ford colognes
Simpler knots require less length, whereas complicated knots or thicker ties require longer lengths.
Also, consider your height. If you're on the taller side, you'll need a tie longer than 57 inches. If you're shorter, find a tie under 57 inches.
Conclusion
Different factors, such as the actual tie length, thickness, material, and knot affect the length of your tie. Depending on these factors, you'll need to make adjustments to ensure the tip of your tie ends at your waistband.
Featured image by David Em/Next Level Gents.
About David Em
Founder
David Em is the founder of Next Level Gents, the ultimate destination for tips and advice about style, grooming, fitness, and success.