You don't have to rely on physical growth or getting the right angles in pictures. Here are 7 style hacks to look taller than you actually are.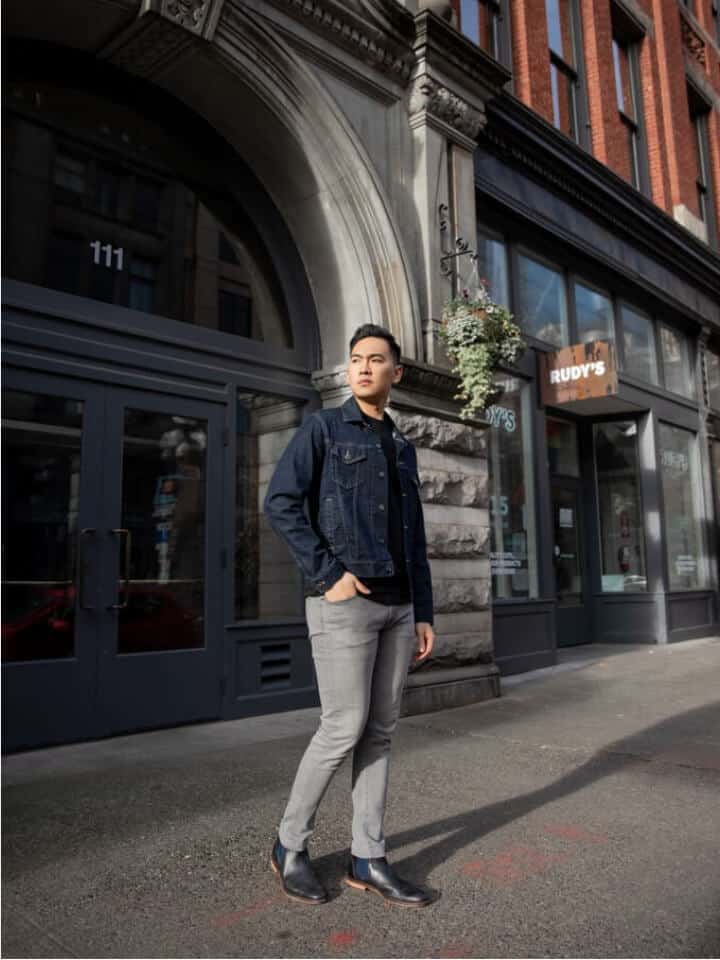 Can What You Wear Actually Make You Look Taller?
The simple answer is yes. You can't control your genetics but you can control what you wear. If you've ever thought to yourself, "I wish I was taller." I won't be able to physically change that, but with these style hacks, you can actually look taller.
Just because aren't tall, doesn't mean you can't look like it. Clothing can help! Below are the best style hacks to make you look taller than you actually are.
Style Hacks to Make You Look Taller
Vertical Stripes
Vertical stripes make you look taller. You have probably heard that before and it is true. Try wearing a shirt with vertical stripes and take a look in the mirror. It adds the illusion of height.
Wear Long Sleeve Shirts
Short sleeve shirts make your arm look shorter and smaller. Whereas long sleeve shirts, make your arms look longer. Typically longer arms are associated with taller people.
Get Your Clothes Tailored
Make sure your clothes fit properly according to your body. It will help with how tall you look. When you go to a tailor, they can adjust your clothes to be perfect for you.
Be straight forward with them and tell them you want to look taller. No need to feel ashamed about that. A good tailor will be able to provide a solution as to how your clothes should fit.
No Belts
A belt runs around the waist, which creates a horizontal line right in the middle of your body. If you need to wear a belt, get one that blends in with the rest of your outfit. That way it is not as noticeable.
Instead of a belt, opt for suspenders. Not only will these keep your pants where they need to be, but they also look classy and stylish.
Wear Pointed Shoes
Instead of wearing a square-toed shoe, wear pointed or rounded-toe shoes. This causes your foot to visually lengthen, which also makes your legs look longer. Longer legs = taller.
Avoid Bulky Clothing
Bulky clothing will make you look short and wide. Unless that is what you are going for, skip the bulky clothes.
When clothes stay close to the body, you won't look stretched in width. When you look wider, you look shorter. You want to increase the length or at least the illusion of length, instead of width.
Maintain Great Posture
Having great posture is one of the best ways to look taller. If someone is hunched over, they have automatically cut off an inch or two.
By keeping your chest up and head high, great posture leads to looking taller. Not only will it help you look taller, maintaining good posture is good for your back.