Regardless of the color of your suit, Chelsea boots look fantastic as formal shoes. Slim pants work the best with Chelsea boots due to the streamlined cut.
We receive a commission when you buy through affiliate links on this page.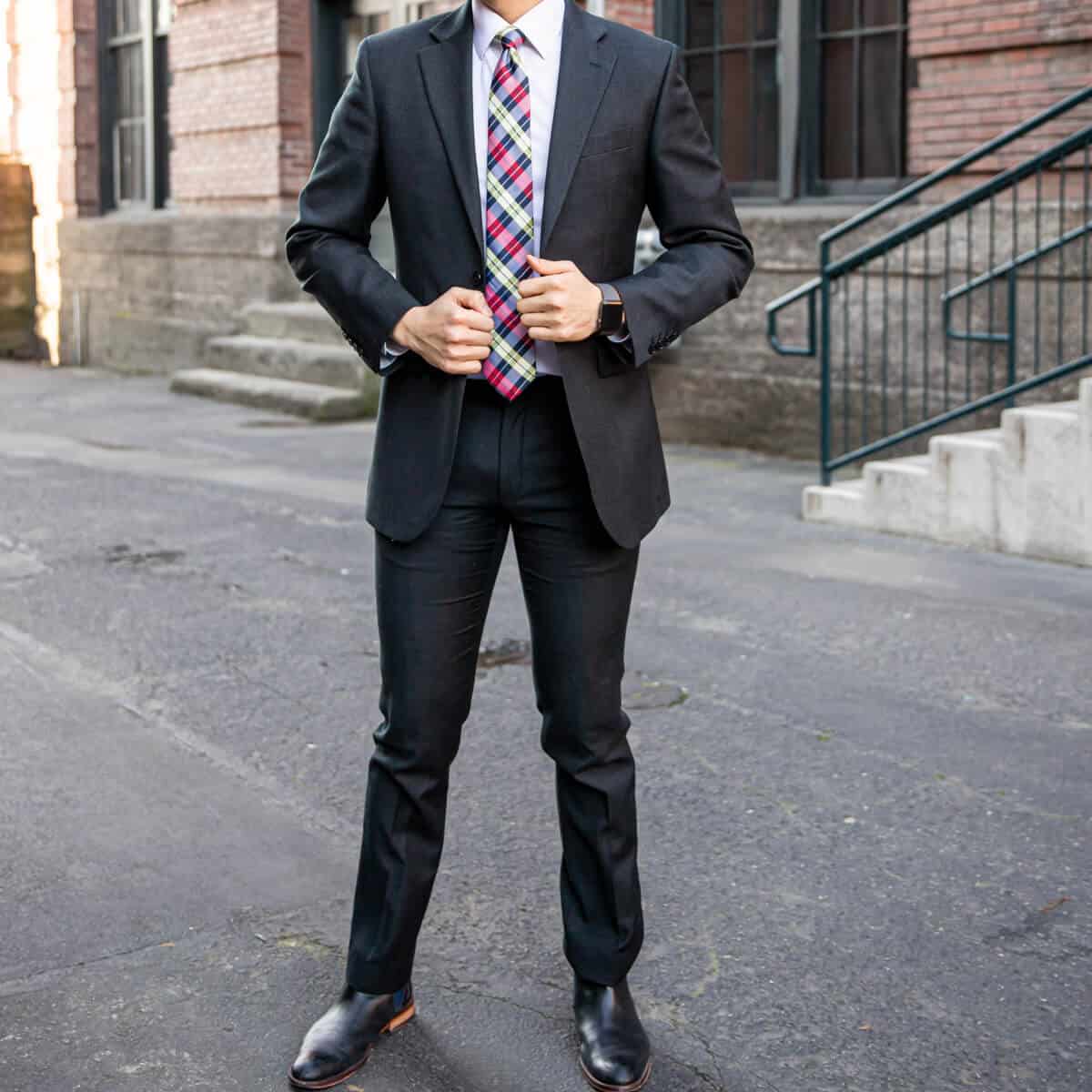 Chelsea boots with a suit
Chelsea boots are the most formal boot, which is why you can pair them with a suit of any color. Although they're dressy boots, they aren't formal enough to wear with a tuxedo.
Related: How to wear Chelsea boots
When you wear Chelsea boots with a suit, the fit is key. Your suit needs to have slim pants because they'll look the best with the cut of the boot.
Along with slim pants, the length of your pants matters too. Wear pants with no break or a slight break to show the unique elastic side panel and top of the boot.
Note: Don't tuck your pants into your boots because it doesn't look good and ruins the sleek look.
Whether you're going on a date or to a business meeting, this combination will make you look great and feel more confident.
Related: What to Wear on a Date
Regardless of the occasion or season, Chelsea boots are great boots to have. They're versatile and will immediately up-level your outfit.
Can you wear suede?
If you want to look comfortable, dressed-down, casual but still dapper, pair your suit with suede Chelsea boots. They're fashion-forward and add texture to your outfit.
Related: 15 Best Suede Chelsea Boots
Suede works best for casual occasions. Instead of wearing suede to work, wear it for a night out with your friends.
If you're looking for a casual suit, look for the following characteristics:
Lighter colors
Slim lapels
Unstructured
Before you step out of the door, brush the dirt off of your suede boots and coat them with a water-resistant spray.
Related: 9 best unstructured blazers
Black suit
The classic black suit can be worn for the office or to a party. Regardless of the occasion, swap out your dress shoes for a pair of black leather Chelsea boots.
For a classic look, your Chelsea boots should be slim and tall. Also, the toe area of the boot should be pointed, and the leather should have a nice shine.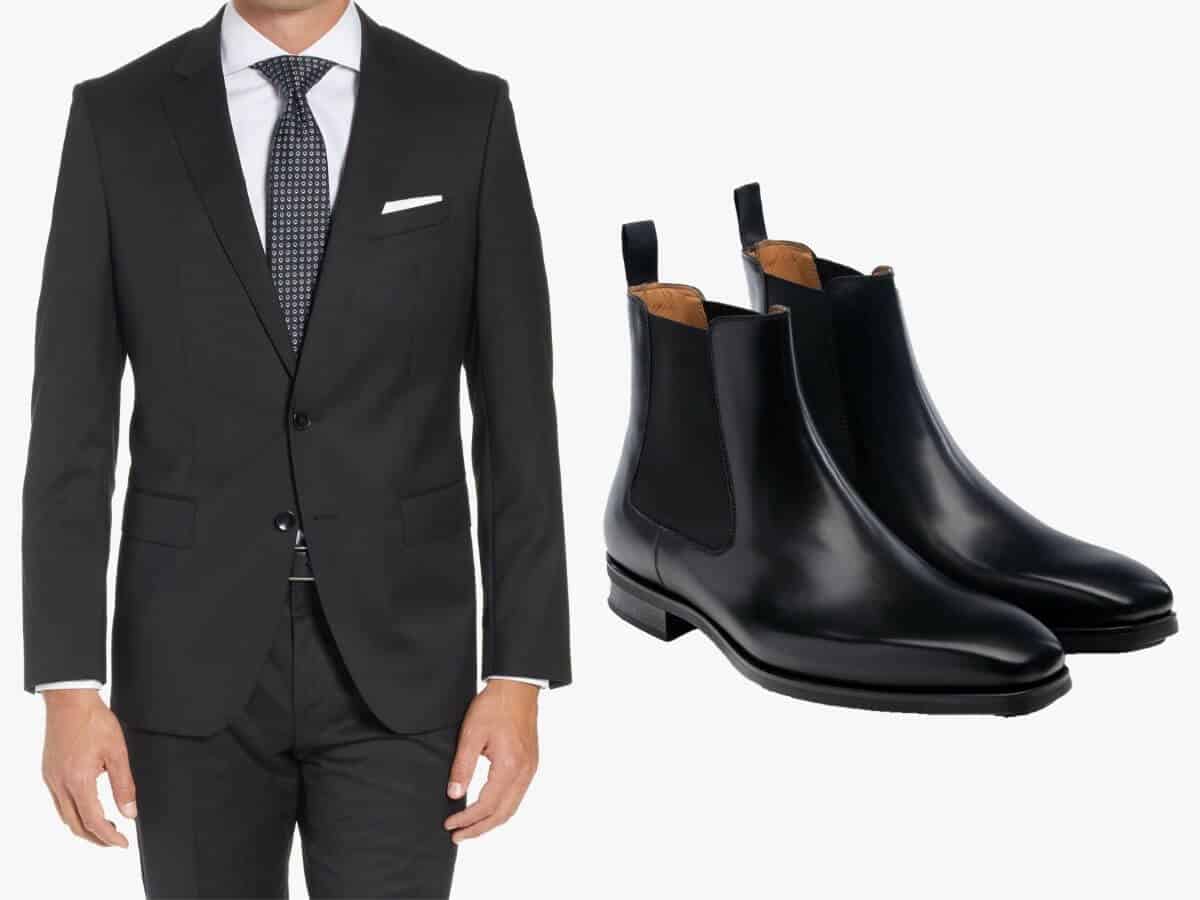 Shop the look:
Grey or charcoal suit
Grey and charcoal-colored suits are another versatile color. However, the shade of grey is an important factor to consider. Light grey is more casual, while dark grey is more formal.
The shade you wear also depends on your skin tone. If you have a lighter skin tone, a light grey suit is perfect. If you have a darker skin tone, charcoal suits will look great.
Related: How to Match Clothes
Brown, black, and burgundy are the best colors for pairing Chelsea boots with a grey suit.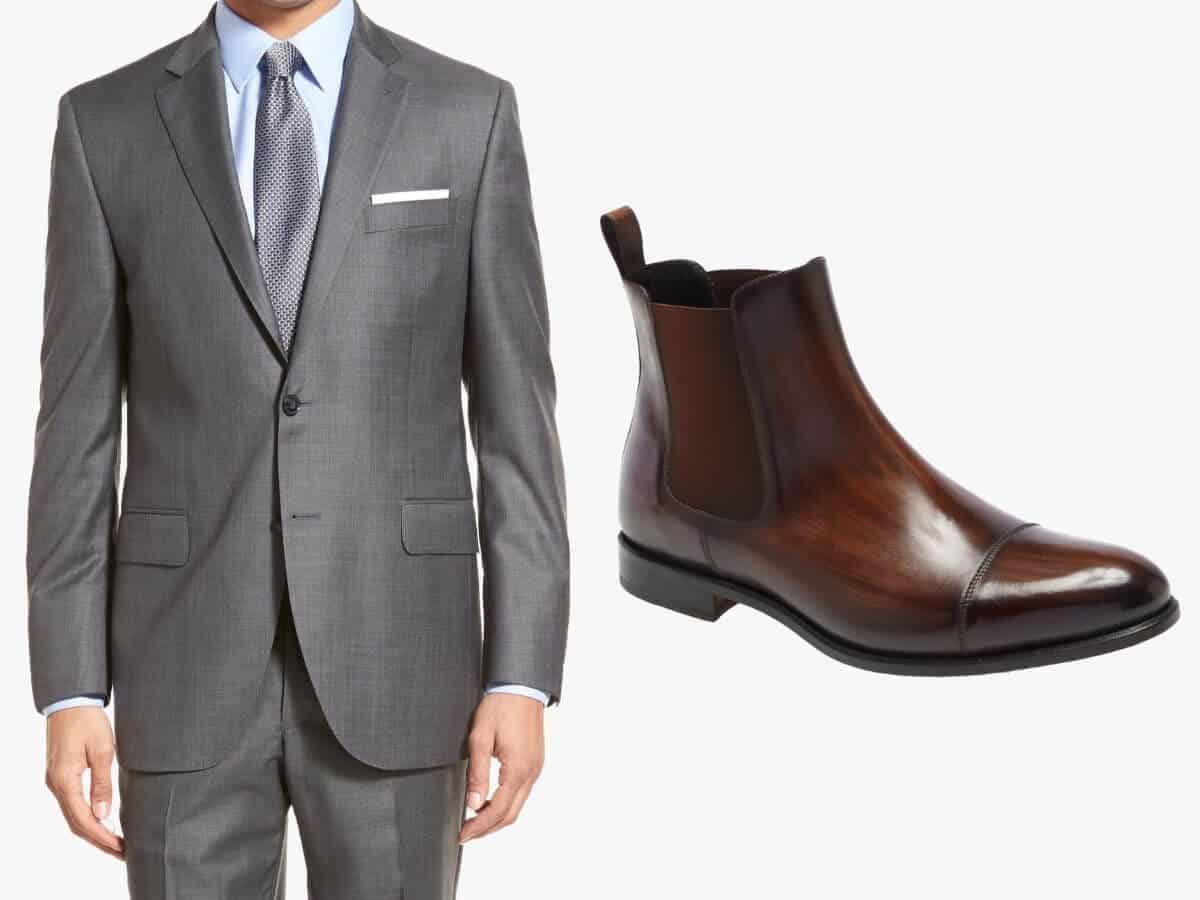 Shop the look:
A blue or navy suit is a classic. While not as formal as a black suit, blue suits are a great way to look more relaxed.
Similar to grey suits, the shade of blue determines the formality. Lighter colors mean less formal, while darker means more formal.
Since a blue or navy suit isn't part of the monochrome look, it adds a nice pop of color. Stick to a white, pink, or light blue button-up underneath to create contrast.
Brown looks the best with blue suits because there's a contrast between the colors, but you can wear black if you don't have brown boots.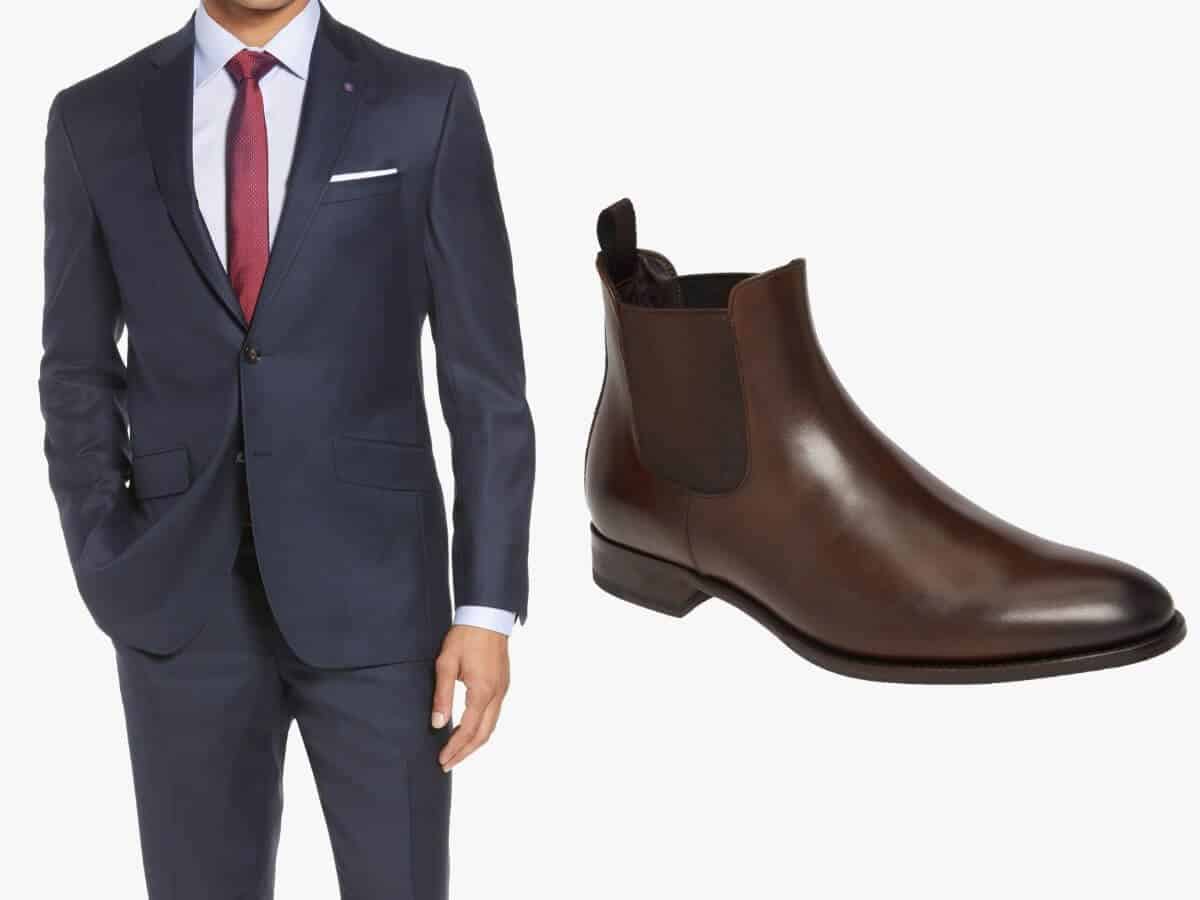 Shop the look:
Dark green suit
A dark green suit is one that you may not have thought of when you think about suit colors. However, it's a great choice for dressing down your suit. Its deep green color is elegant and exudes confidence.
Related: How to Wear Green Pants
Black and brown leather Chelsea boots pair well with a green suit. To make it more casual, wear a pair of suede boots.
Wearing this color will make you stand out but not too much. It's a subtle way to make a great impression and be remembered as someone who dresses well.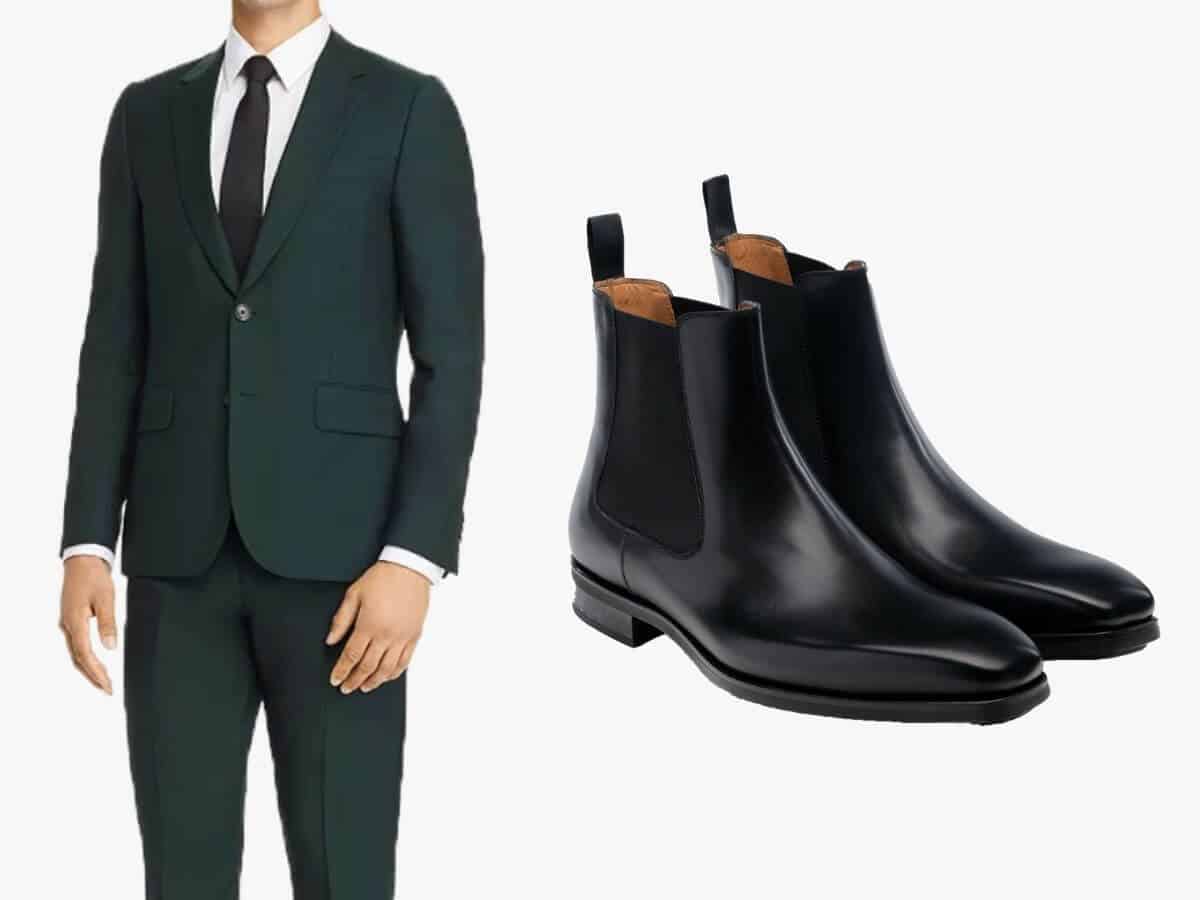 Shop the look:
Celebrity outfit examples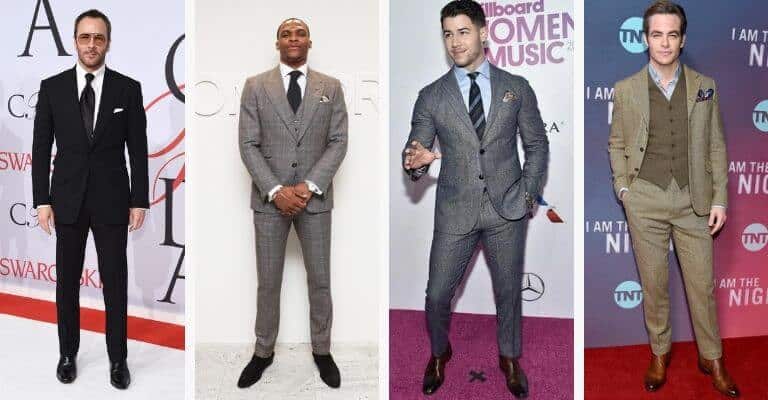 Recommended Chelsea boots
The following are great boots that'll pair well with any suit:
Brown Leather Chelsea Boots
Manolo Blahnik Men's Delsa Leather Chelsea Boots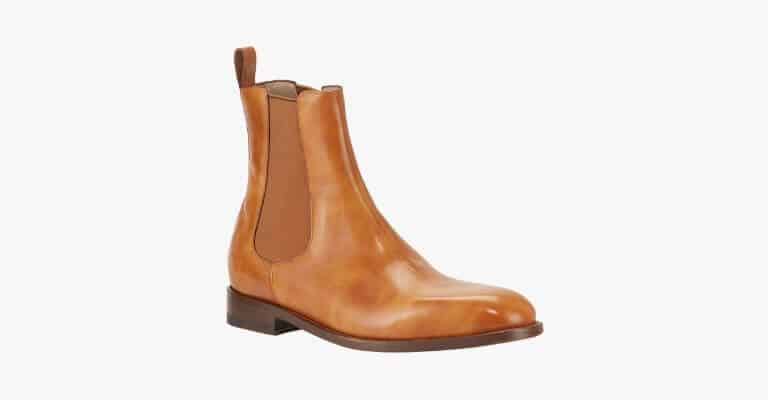 Aquatalia 'Adrian' Leather Water Resistant Chelsea Boot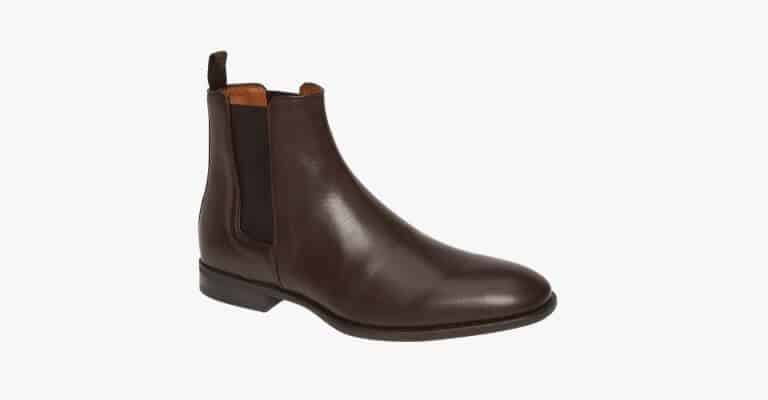 Black Leather Chelsea Boots
Prada Saffiano Chelsea Boot
Santoni Men's Luna Leather Chelsea Boots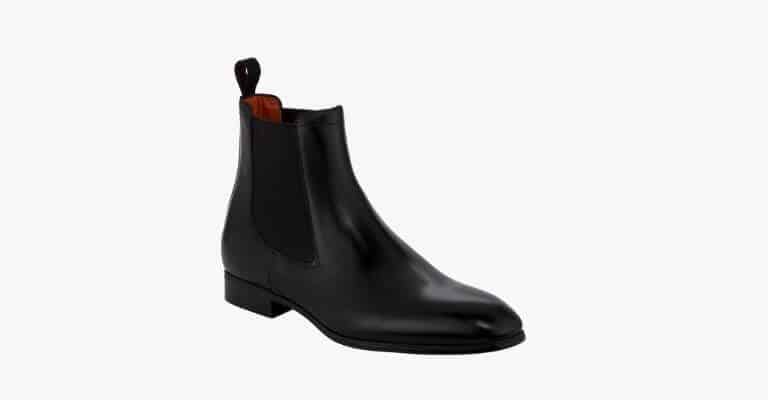 Boss Portland Mid Chelsea Boot
Suede Chelsea Boots
Saint Laurent Eddie Suede Chelsea Boot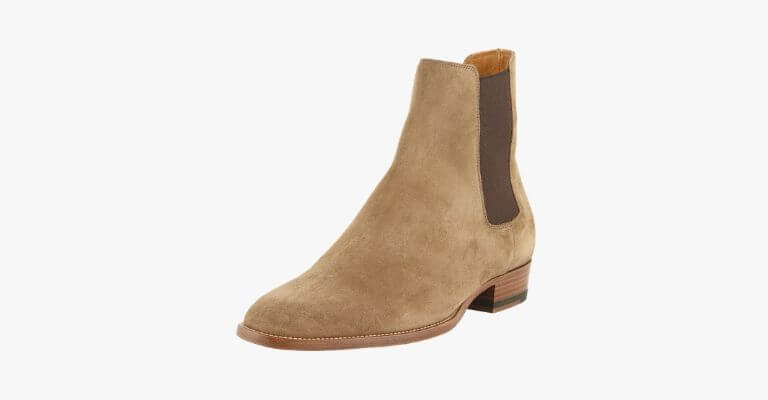 Aquatalia 'Adrian' Suede Water Resistant Chelsea Boot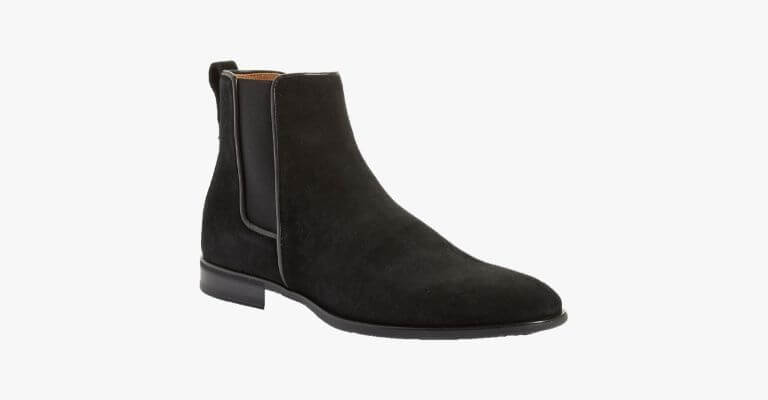 Shoe The Bear Dev Chelsea Boot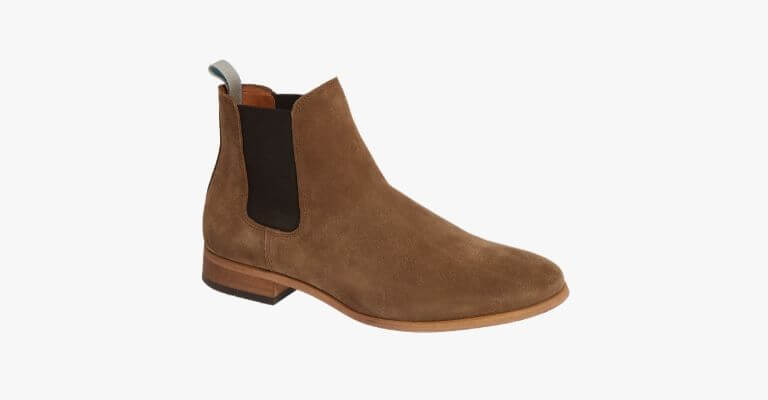 Conclusion
There's no doubt that Chelsea boots look amazing when paired with a suit. A slim and elegant pair of Chelsea boots are the best choice due to their dressier nature.
Slim pants with no break or a slight break will enhance your overall outfit. The bonus of wearing boots is that they have a heel, which makes you taller.
Featured photo by David Em/Next Level Gents.
About David Em
Founder
David Em is the founder of Next Level Gents, the ultimate destination for tips and advice about style, grooming, fitness, and success.