Unstructured blazers are a must-have when it comes to menswear. It's a lightweight and comfortable way to look sharp.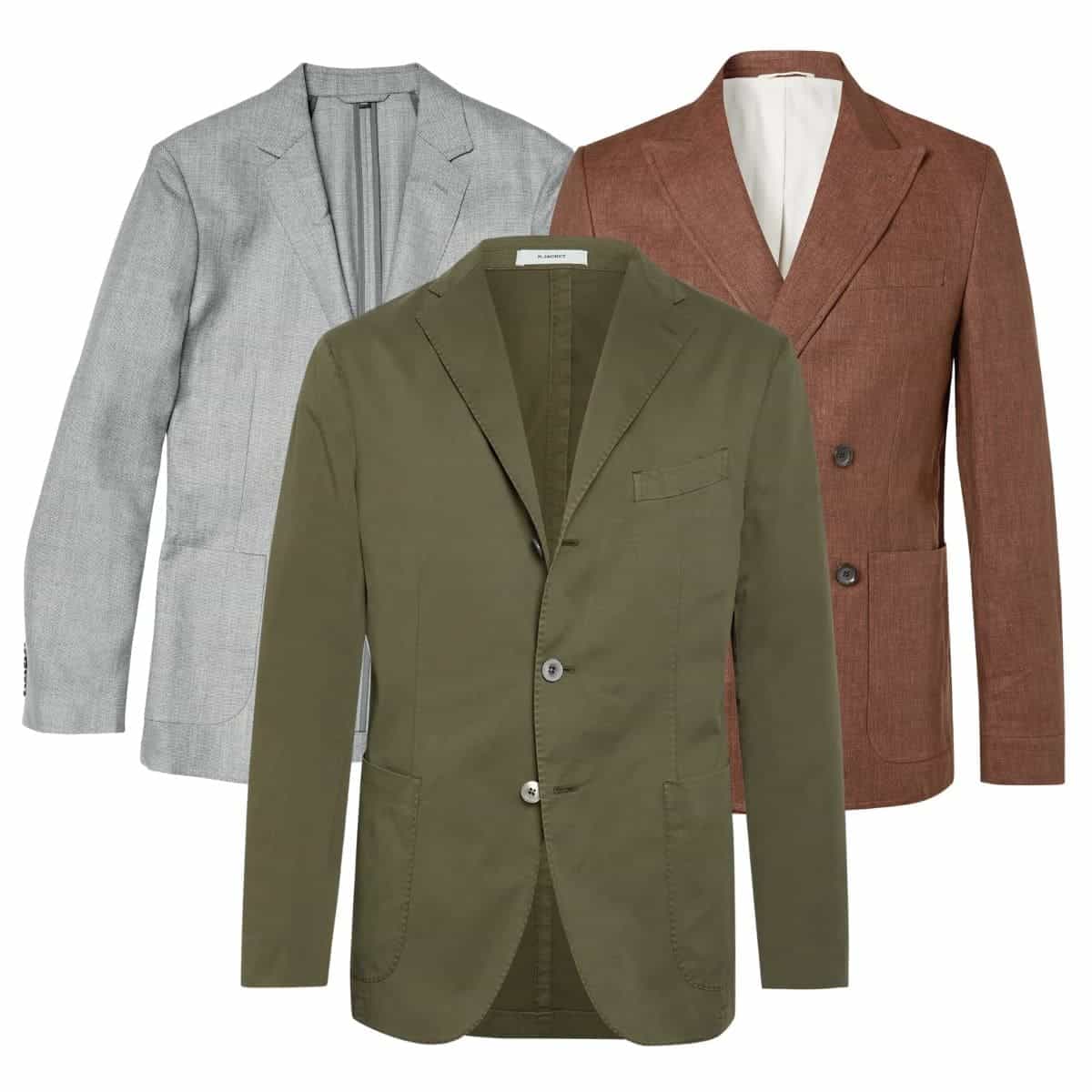 What's an unstructured blazer?
An unstructured blazer is also known as an unconstructed one. It differs from a regular blazer or suit jacket because it has less padding on the shoulders and is more breathable.
Related: How to wear a sport coat with jeans
Another difference is that unstructured blazers have less lining and chest canvas. It allows the jacket to mold to your body and be lightweight.
Plus, it has a more natural look and can be cut slimmer. It follows the lines of your body.
While it's lighter and more breathable, the unconstructed blazer is also more casual. With its natural silhouette, it's a versatile jacket that gives you an elegant look.
Related: What rings mean on each finger
How to wear an unstructured blazer
If you want to look elegant and sophisticated without dressing up too much, the unconstructed blazer is what you need to wear.
It's perfect for smart casual or business casual because it's not as formal as a suit.
You'll be comfortable, look well-dressed, and it's not restrictive, which makes it easy to move around.
Looking good in an unstructured blazer is straightforward. For pants, wear chinos or a clean pair of jeans.
Button-up shirts, turtlenecks, sweaters, and even a nice t-shirt look great underneath. If you wear a button-up, skip the tie and leave the top one or two buttons unbuttoned.
For shoes, dress sneakers, loafers, brogues, boots, and other more casual dress shoes are ideal.
Whether you're going on a date or traveling, an unstructured blazer ensures that you look your best.
Related: Oxford shoes: Everything you need to know
How should it fit?
You'll find unstructured blazers in different colors, patterns, and materials. The one you choose is up to you. However, the fit will make or break your outfit.
So, how should an unstructured blazer fit?
While they're slimmer, have less lining, canvas, and padding than a suit jacket, similar principles apply.
Related: How to get your suit tailored
An unstructured blazer must be snug. The shoulders should follow the natural lines of your body, and you shouldn't see a dent in the shoulder area of the jacket.
If the shoulders look good, the next step is to check your mid-section. Button up the unstructured blazer. There shouldn't be any tugging or wrinkles near the buttons.
Next, check the length of the sleeves. Look at your arm. Do you see that bone that slightly pops out of your wrist? The sleeve should end right after that point.
Another important spot to check is the collar. The jacket needs to rest on your shirt collar. Make sure there isn't a gap.
Related: What's a camp collar shirt?
Lastly, take your hand and make a fist. Place your fist in between your blazer and your shirt. When you do that, the blazer should pull. If not, the blazer is too big.
By ensuring a good fit, you'll look impeccable in an unstructured blazer.
Related: 8 best boots to wear with a suit
6 best men's unstructured blazers
Now you know how crucial it is to have an unstructured blazer. Level up your style by getting one. The following are the best unstructured blazers for men.
1. Suitsupply Mid Brown Havana Jacket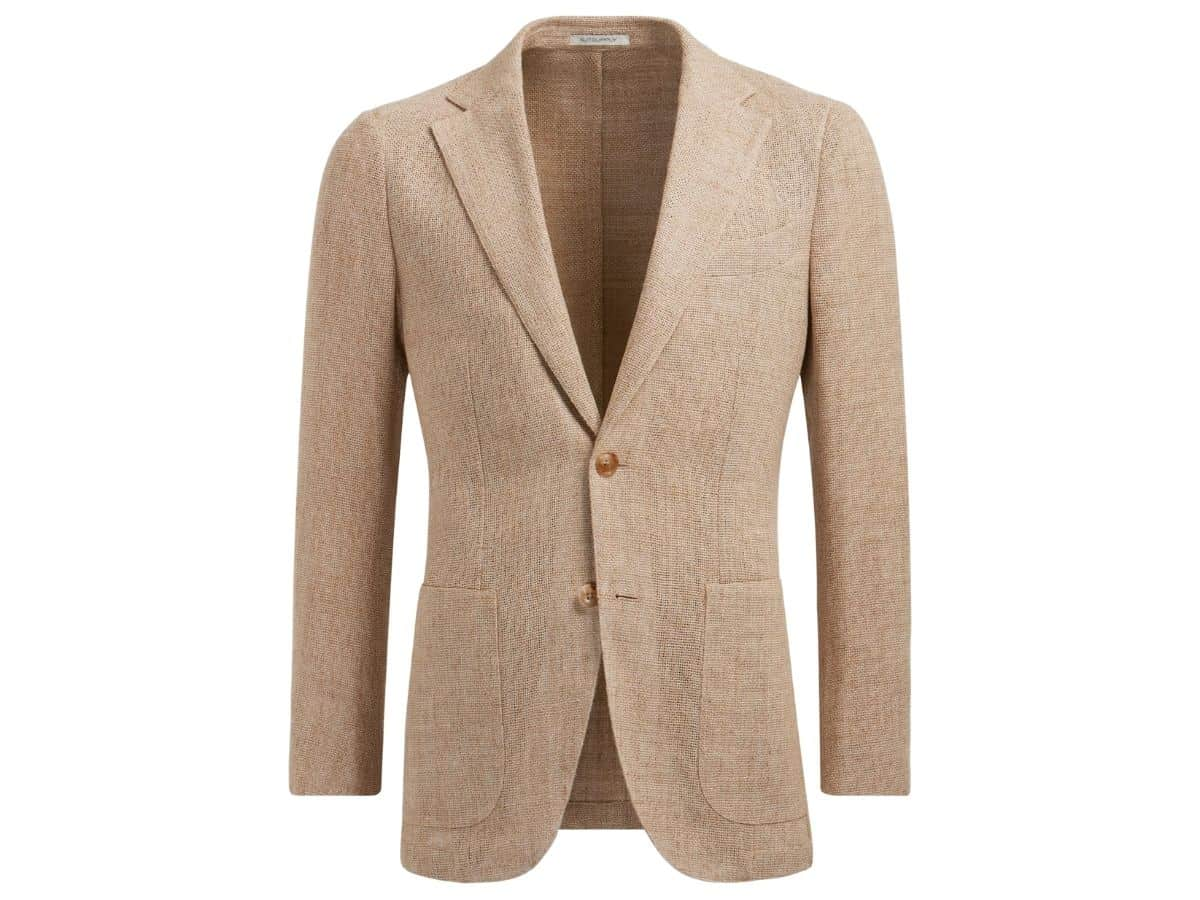 For a spring and summer unstructured blazer, go with the Suitsupply Havana Jacket. The cotton-linen-silk blend and light brown color are perfect for warm weather and vacations.
The Havana Jacket has a 2-button, single-breasted closure, notch lapel, pleated shoulder, patch pockets, and a boat-shaped breast pocket.
Its texture is unique, and it offers a breathable feel. Wear it with navy, olive, or white pants, an earthy-toned shirt, loafers, and your favorite sunglasses.
Buy the Mid Brown Havana Jacket from Suitsupply for $599.
2. J.Crew Ludlow Slim-Fit Unstructured Suit Jacket
J.Crew is well-known for sophisticated clothing. The Ludlow unstructured blazer is a classic and has been one of their most popular items since launching in 2008.
It's an English wool-cotton twill material, and you can choose between coal grey or navy. Both of the colors will make you look stylish and well-dressed.
The Ludlow unstructured blazer has a 3-inch notch lapel, pick stitching along the collar, lapel, and pockets.
It has a single-breasted two-button closure and a double vent. There are also nonfunctional buttons at the cuffs.
Buy the Ludlow Slim-Fit Unstructured Suit Jacket from J.Crew for $248.
3. Bonobos Unconstructed Italian Wool Blazer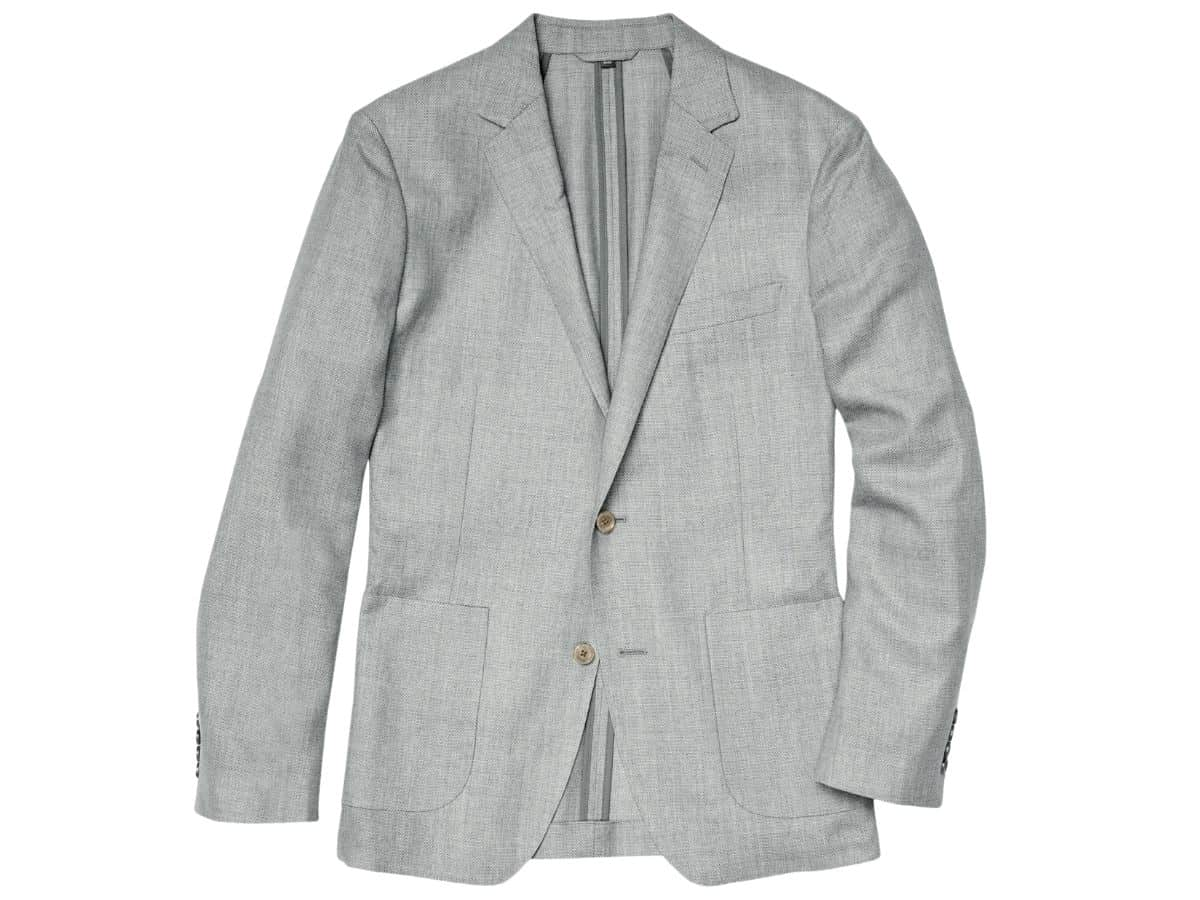 Bonobos offers a high-quality unstructured blazer made with Italian wool. However, that's not why it's one of the best choices.
Yes, you'll look sharp wearing the lightweight and comfortable blazer, but it's an excellent choice because you'll look good regardless of your body type.
Instead of being made for a slim person, Bonobos has a wide range of sizes and you can choose between a slim, athletic, or standard fit.
Regardless of how you look, you can rock the Bonobos unstructured blazer.
A few features include a 3.25-inch notch lapel, double-button, double vents, contrast piping, and non-functioning button cuffs.
Buy the Unconstructed Italian Wool Blazer from Bonobos for $400.
4. H&M Slim-Fit Unconstructed Blazer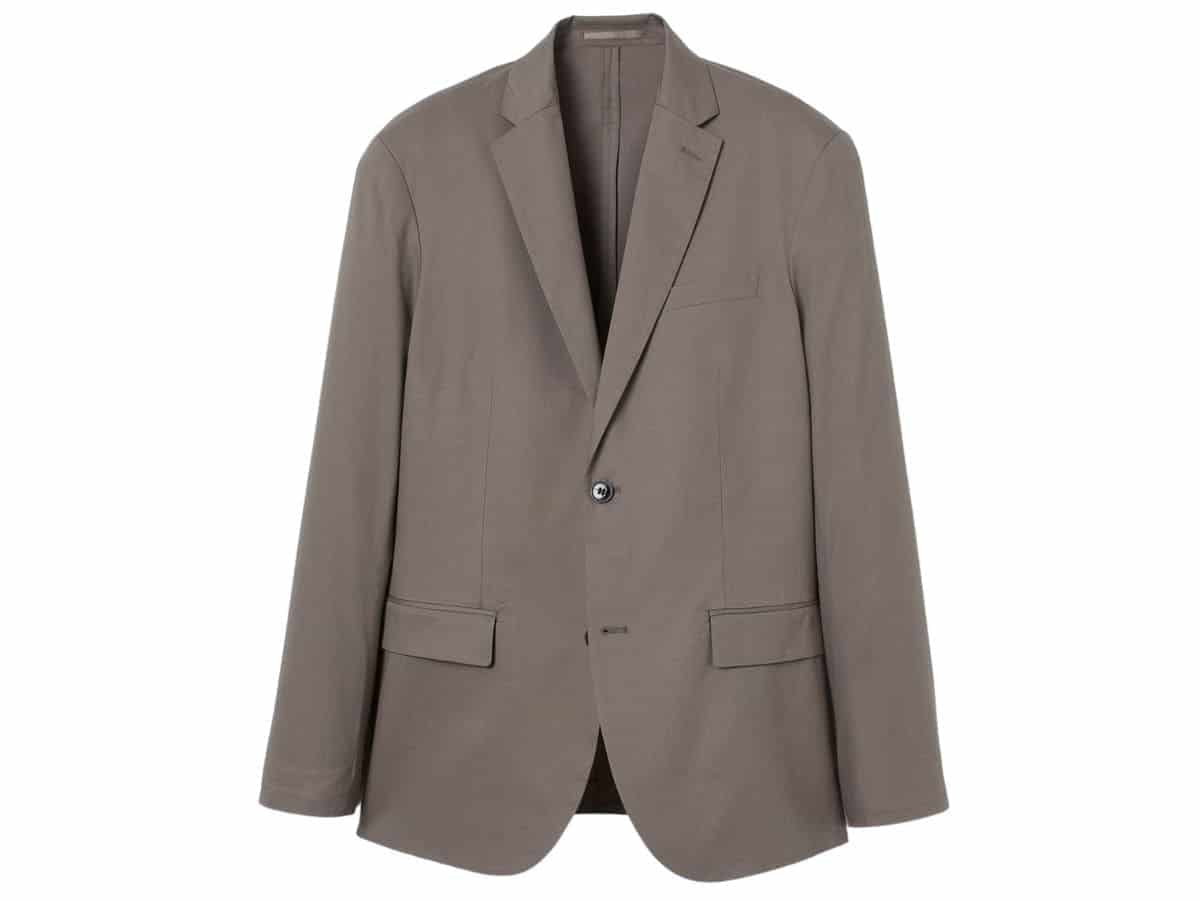 If you don't have the budget to spend hundreds of dollars on an unstructured blazer, you can still look good. H&M offers one that'll ensure you look sharp for less than $100.
The shell is a blend of lyocell and cotton, while the sleeve lining is polyester. It's not as durable as the high-quality choices. With the right fit, it can look more expensive than it is.
It has narrow and notched lapels with a decorative buttonhole. The blazer also has a chest pocket, front pockets with flaps, two inner pockets, decorative buttons at the cuffs, and a vent at the back.
Buy the Slim-Fit Unconstructed Blazer from H&M for $69.99.
5. Wills Garment Dyed Blazer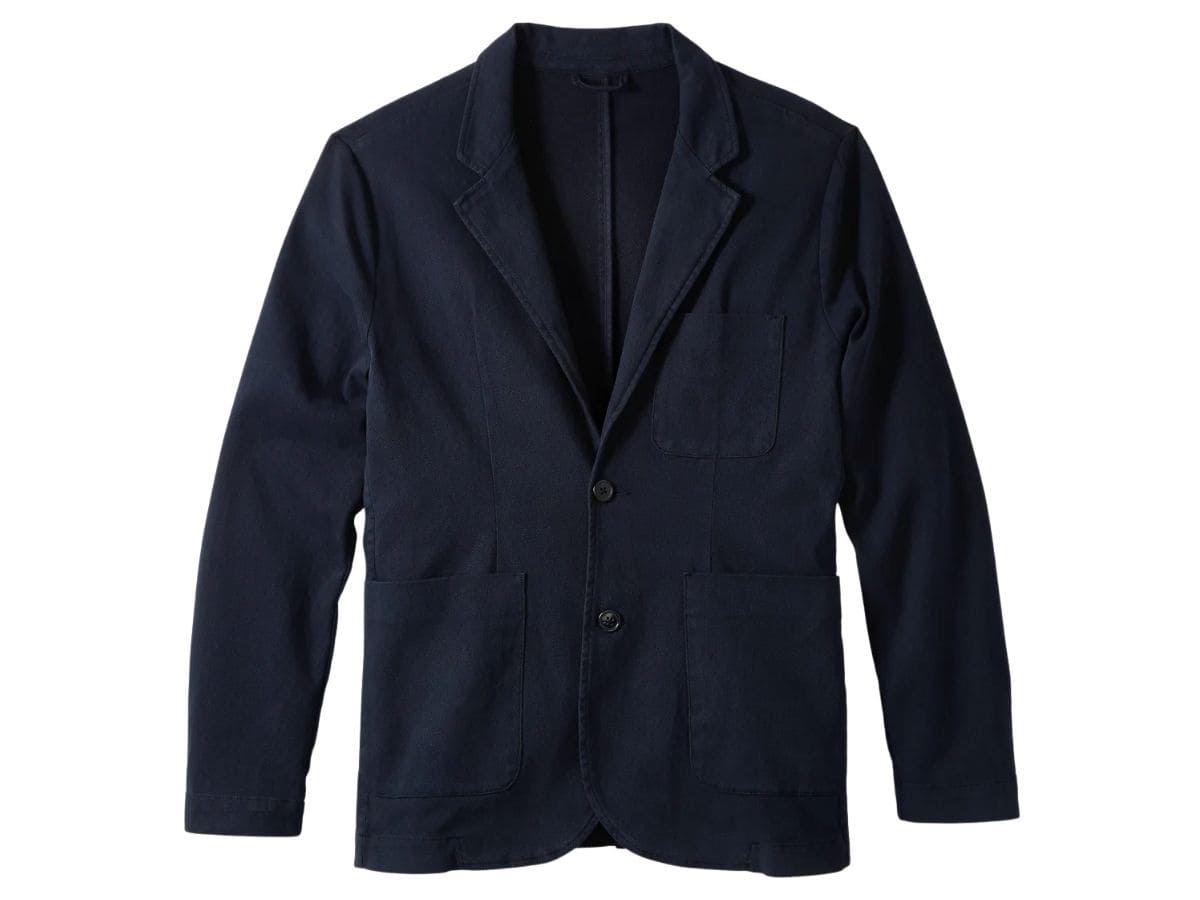 Wills is known for making high-quality menswear at a good price. The Garment Dyed Blazer looks and feels top-notch. Wills offers it for much less than its competitors.
The unstructured blazer is lightweight, versatile, stylish, and comfortable. Its deep navy color looks excellent with khaki-colored chinos or light blue jeans. It can also be worn year-round, making it a staple.
The Wills blazer has patch pockets at the chest and waist, two interior pockets, a notch lapel, a single rear vent, and functional three-button cuffs.
One of the first things you'll notice when you put it on is that it's flexible. You can move around easily, and you'll quickly fall in love with wearing it.
Buy the Wills Garment Dyed Blazer from Huckberry for $198.
6. Officine Generale Slim-Fit Unstructured Cotton-Blend Corduroy Blazer
When the temperature drops, bring out the corduroy to stay warm. The Officine Generale corduroy unstructured blazer is an excellent way to be unique and add depth to your outfit.
The unstructured blazer has notch lapels, split cuffs, a chest welt pocket, two front patch pockets, a single vent, and is partially lined.
It's a mid-weight blazer and tailored for a slim fit. The style and cotton-blend corduroy are timeless. You can wear it for many years and look just as good.
Conclusion
Unstructured blazers are lightweight and breathable. You'll look sophisticated and stylish wearing one because it molds nicely to your body. If you don't have one yet, add it to your wardrobe today.
Featured image courtesy of Bonobos and Mr Porter.
About David Em
Founder
David Em is the founder of Next Level Gents, the ultimate destination for tips and advice about style, grooming, fitness, and success.