Many people will say to never wear a suit jacket with jeans but the truth is, you can. Here's your guide to pairing a suit jacket with denim.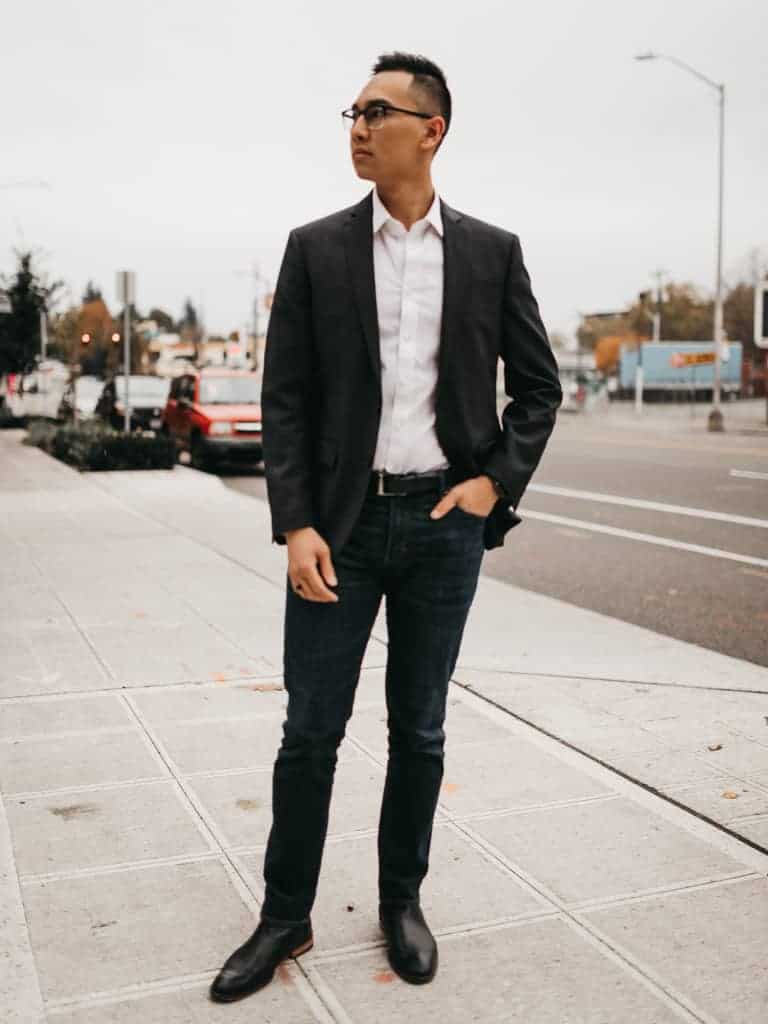 A Suit Jacket with Jeans
You may have heard that you should never pair a suit jacket with jeans. While traditionally, that's true. You can bend the rules if you need to.
Looking good and feeling confident is more important than bending a rule.
Since this combination is more casual, it looks great if you skip the tie and unbutton two buttons.
Suit Jacket Color
When you're wearing an actual suit jacket with jeans, the color matters. Avoid wearing black since it'll make the outfit look off.
Navy, light grey, and dark grey are the best colors to pair with dark blue denim. Be sure that the color is flat and not shiny. This will be the best way to make the pieces blend in with each other and not stick out like a sore thumb.
Your Jeans Matter
Black and dark blue denim are the best color for jeans. You'll also want to wear pants that are well-fitting. Not too tight and not too loose.
If you have distressed or faded jeans, skip those if you plan to wear a suit jacket. Your pants should look neat and solid.
Is It Your Only Suit?
If you only have one suit, it's better to save it for a formal occasion. When you wear a suit jacket with jeans, it's to make it more casual.
This means the chances of it getting dirty or ruined are higher than they would be for a formal event. Once, it's ruined it'll be very hard to fix and sometimes, impossible.
The discoloration of a suit jacket is a common issue when it comes to wearing the suit pieces separately. The one you wear more will have more wear and tear which will be obvious once you put them back together.
This doesn't look good, so don't do it if you only have one suit.
Get a Sports Jacket
If this style becomes one that you love and feel confident in, get a sports jacket. It's one of the most versatile and dapper clothing items that a man can own.
A sports jacket or sports coat isn't as formal as a suit but it's more formal than only wearing a button-up shirt. It's a great look, which will also make you look more sophisticated.
The rules are the same as a suit jacket, the color matters, and your jeans should be neat.
Conclusion
Even though it bends the rules, wearing a suit jacket with jeans can work. As long as you have another suit, the suit jacket is the right color, the jeans fit well, and are dark, you can do it. However, if you have the option, a sports jacket works even better.
This outfit is great for a first date, a casual interview, traveling, and anytime that you want to feel a boost of confidence.
Don't be afraid to bend the rules, if you look good, and feel more confident, it's a good thing.
Stay connected with us on Instagram and Facebook!
Featured photo by David Em/Next Level Gents